ShortPixel Adaptive Images 2.0 is live! Finally, after months of work by our awesome team, we are happy to announce the new version of the best image optimization plugin. SPAI 2.0 comes with numerous new features, fixes and great improvements that we are all really excited about.
Onboarding wizard
ShortPixel Adaptive Images 2.0 brings a totally new onboarding wizard. If you install our plugin for the first time, right after the activation you will be taken to the wizard. In 4 simple steps, SPAI will help you connect the plugin to your account on shortpixel.com, recommend you the best settings for your website and show you live how your website improves with the plugin installed.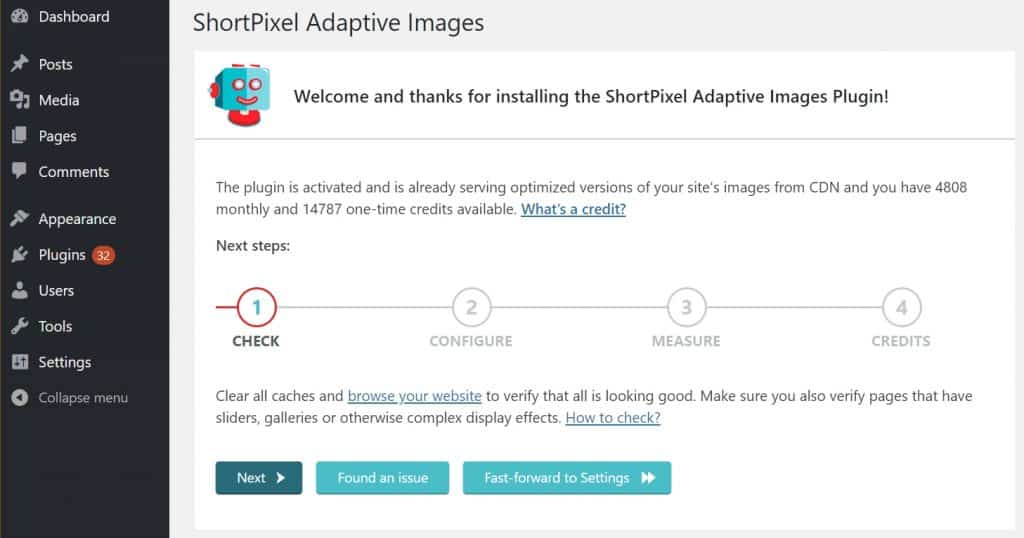 After you finish the wizard, you'll just need to relax and enjoy!
Image Checker
ShortPixel AI 1.0 did a great job, but at times it was tedious to work with it, especially if you wanted to exclude images from optimization or flush a specific image from our CDN's cache.
That changes with version 2.0. Go to any page on your front-end and you'll meet our little robot, which we call Image Checker, on the top bar:

Clicking on it, you'll be able to select any image on the page and:
Exclude the clicked image
Exclude images like that one
Prevent resizing of images like the clicked one
Prevent lazy loading of images like the clicked one
Refresh that image on our CDN (a.k.a. flush cache)
Account status box in settings page
Now you have all the information you need about your credits on the new account status box, including used credits, used CDN traffic, a useful graph and links to your account on shortpixel.com. All this is on the (also) new settings page!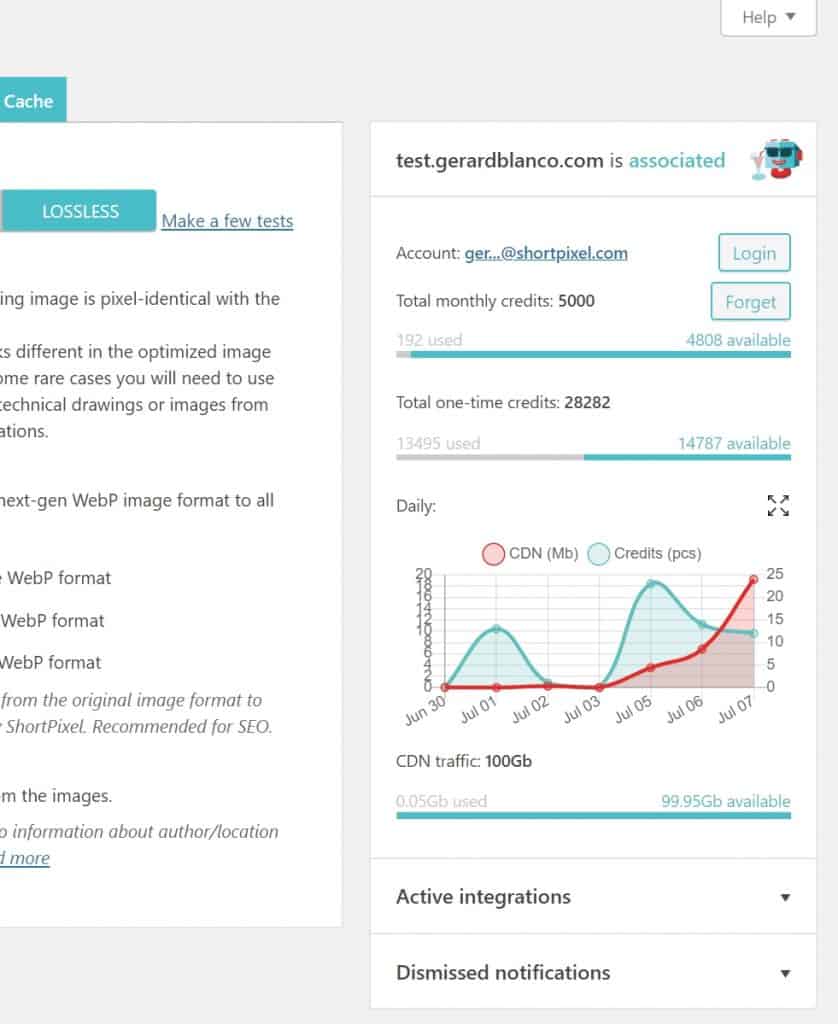 Native lazy-loading
Another much demanded-feature that we've added is browser-level native lazy-loading support. With it, you'll be able to tell SPAI to use the new "loading" attribute to lazy-load resources without the need to use a separate JavaScript library. This translates to a much better performance and to lazy loading working even if JavaScript is disabled on the client.

More quality of life improvements
Like all major updates, there's quite a few big features, but there are other smaller updates and fixes under the hood:
More integrations with cache plugins, specifically W3 Total Cache, Swift Performance Pro and WP Fastest Cache. The URLs of the images are now replaced directly in the minified CSS files handled by these plugins, and such files won't be served anymore from a different domain (cdn.shortpixel.ai).
SVG files can be served now from our CDN too.
We've added a deactivation pop-up that includes the possibility to downgrade the settings to the 1.x.x version.
You can now select the image types for which WebP will be delivered by supporting browsers.
Improved ShortPixel support integration, which now allows easy searching inside the plugin documentation, straight from the settings page.
Be sure to check out the changelog to read more about all of the changes, and of course, check out your WordPress site for new updates!