Have you ever wanted to see how some plugin works, but didn't really feel like experimenting on your live site? Now there is a way to check out a plugin, theme, or a new setting in a safe environment. Entering TasteWP.com, a friendly platform that allows you to spin up a free WordPress test site in just a couple of seconds.
A live WordPress test site with one click?
Yes, really. Even without being logged in, you can get a WordPress test site in under 3 seconds, with just one click. Surely, if you want a WordPress staging site that operates on a specific PHP version and/or WordPress version, you can make it happen in a couple of clicks more. Do not worry, it doesn't get complicated, as the team behind TasteWP – Inisev, works to keep everything simple.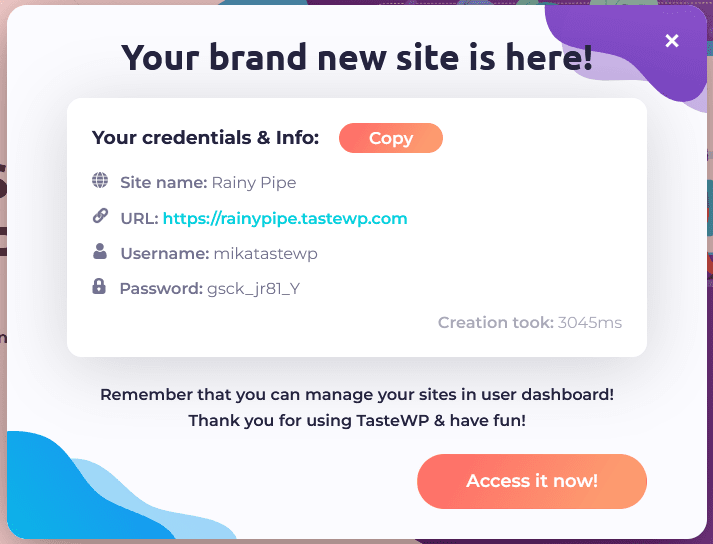 It doesn't take more than a few clicks to adjust the options in the advanced setup screen of your new WordPress test site. Besides WordPress and PHP versions, WP debug, (alternate) cron, site cache, pre-installed plugins, theme, and multisite, you can also create our site name, if you don't find the randomly generated one funny enough. There is also a special option that lets you start a non-expiring WordPress test site, but more about that later.
WordPress site owners who use older WordPress versions, page builders, or themes, know how often compatibility issues occur, and will appreciate a testing ground such as TasteWP, which is a neat way to play with these combinations without the risk of breaking down a live site and going through the fuss of restoring. Talking about neatness – you won't have to worry about cleaning up behind you like you would do on a local staging site; TasteWP test sites automatically expire and are deleted.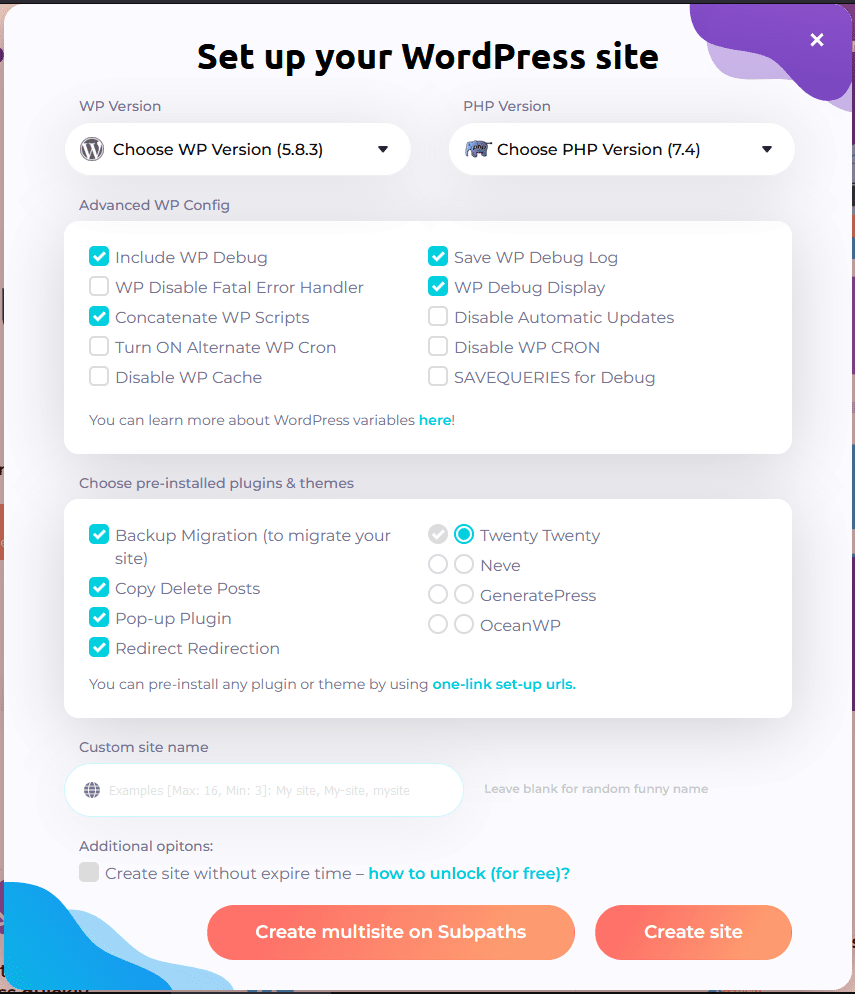 The advantage over a local WordPress test site and other services similar to TasteWP
While some WordPress developers were once quick to argue that they prefer a local WordPress test site over any 3rd party service, the times have changed, and now we gravitate towards an online service. One point is literally in the word "online", as many services and plugins that are an integral part of an average WordPress site need a constant internet connection to work properly.
My experience in testing and developing plugins has taught me that something working on a local site might not work on an online test site. The big plus here goes to the online test site, as no matter where the tester and the developer are geographically located, they can both have access to it. Debugging in general is smoother on TasteWP.
Another point is the speed. Even the best of WordPress developers can't create a fresh WordPress test site in under 5 seconds. What the TasteWP team did was to optimize the process and make it fast. Users can access and edit all WordPress files like on any normal instance. Time-saving is imperative, both in test site creation and, as well, in the process of deletion. The site is erased after several days, so you don't have to worry about cleaning the testing ground.
And there is one more advantage of having a test site on a 3rd party server. When you are checking out plugins or page builders that you don't entirely trust (in terms of vulnerabilities or malware), it is always safer to do it on an external server, such as TasteWP, rather than running them on your own system.
How many WordPress test sites do you get on TasteWP?
TasteWP currently offers 6 active WordPress test sites per registered user, and those sites last for 7 days. If you delete a site, a new one can be added. For non-logged-in users, the limit is 2 test sites, and they last for 2 days. All test sites can be up to 1GB in size as of this moment.
Now let's talk a bit about the special case here – the non-expiring sites I mentioned earlier. You can earn those websites through the affiliate program. You can get one non-expiring site for every 3 users that sign up on TasteWP using your affiliate link. How amazing is that?
The TasteWP dashboard provides a clear overview of existing websites. Therefore, you can easily access the website's admin area, remotely disable all plugins in the test site, change the PHP version on the go, or delete a site.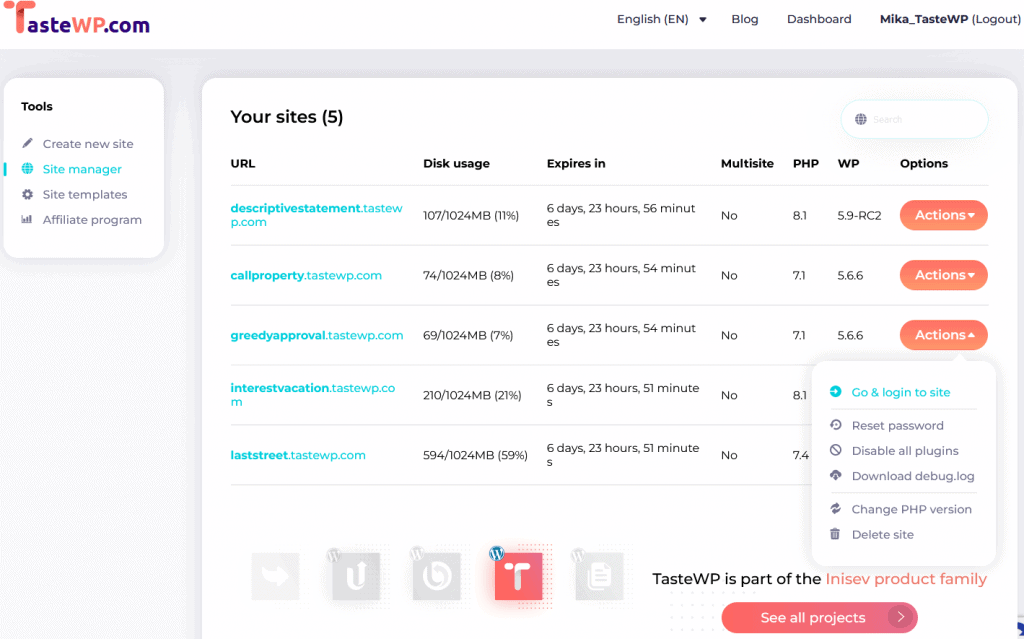 WordPress plugin demo links
One of the relatively recent features that TasteWP published is the one-click demo links. This feature that delights WordPress plugin developers, comes completely free and is available for everyone to use. There is no limit to the number of people that can use this feature. Demo links allow developers to create a link that automatically makes a WordPress test site with the desired plugin(s), and, optionally, even redirect the link-user directly to the plugin screen. See how it works for ShortPixel Image Optimizer.
TasteWP demo links allow up to five plugins to be installed with one link, which is great for plugins that work as an add-on, or that have add-ons. WordPress plugin demo links can also be created so that they include a specific WP theme. In the same manner, a demo link can be created so that it adds only a WP theme, without specific plugins, which might better suit WP theme developers or users who just want to tweak or customize a theme.
Not everyone who works with WordPress is a plugin developer, in fact, most of us (e.g. webmasters), are not – and the team behind TasteWP thought about this too. A clever feature called magic bookmark is made for browsers, and it creates a demo site for any WordPress plugin or theme if you are on the plugin's official WordPress.org directory page (like https://wordpress.org/plugins/shortpixel-image-optimiser/). This bookmark button basically allows all users to check out any plugin from the WP directory on a WordPress staging site with just one click.
You can learn more about the demo link creation in TasteWP's official blog post.
Conclusion
For WordPress developers and WP enthusiasts alike, TasteWP offers an accessible and flexible testing ground. Through TasteWP, WordPress veterans and beginners, teachers and students, devs and testers fire up thousands of test sites each day. Being translated into almost 20 languages, TasteWP is becoming the favorite WordPress staging platform for users around the world. Curious to join the TasteWP community?
Author's bio:
Mika is UI/UX designer and QA tester at Inisev. He's been with the TasteWP project since its inception. Now proudly presenting TasteWP to the wider audience while still using it himself for testing and improving the company's products.