Progress never stands still regardless of industry, and web development is no exception. New trends in website creation appear with enviable regularity, and it is quite difficult to keep track of them all. And this is extremely important for future web products that need to be technologically advanced, modern and competitive to survive in a highly ambitious business world.
We decided to help you with the selection of current trends for your future web solutions and put together the latest 2021 trends in one place. So, without further ado, let's get started.
Trend #1. Progressive Web Applications
The first trend to keep in mind is PWA or a progressive web app. This technology allows you to make interaction with websites much more technological and convenient for mobile devices users.
Technical details aside, the progressive web app is a full-fledged website that provides functionality that is often associated with mobile applications. For example, these websites can send you notifications, interact with your device's camera or voice recorder, and more.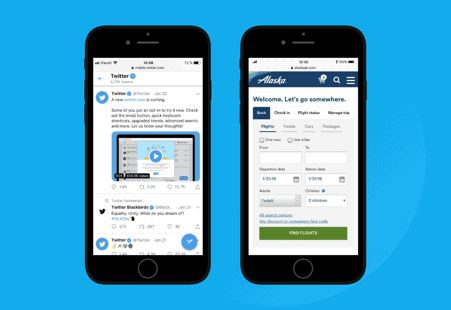 According to analysts, mobile devices dominate over desktop PCs, laptops, and tablets. More than 80% of users' time is spent on mobile applications. And PWAs are a great tool for drawing the attention of mobile users to your website.
Trend #2. Accelerated Mobile Pages
Google, as a leader in web surfing, strives to maximize the enjoyment of browsers and websites exploration. That is why the company introduced the Mobile Pages Project, which is the foundation of web app development today.
This project includes technology that encourages the development of fast websites, with pages that load in no time. To be more precise, websites with AMP pages load in about 1-2 seconds, while standard pages for simple websites load in 3 seconds. And as you know, Google rewards fast websites with higher-ranking positions.
Trend #3. Responsive Websites
This list should contain only the newest and most modern trends. However, such an old technology as responsive design still reigns supreme and represents the basis of any site-building.
When this technology appeared, it was just a nice addition to make your website stand out from the competition. Now, it is strictly required as a huge part of search queries and surfing occurs through mobile devices. And this is the reason why Google indexing focuses on the adaptability of websites to mobile devices.
Trend #4. Voice Search
Voice search is another trend that should not be overlooked. The prevalence of smart speakers and the improvement of voice input on mobile devices have created a real boom in the popularity of this method of surfing the Internet. For example, by the end of 2021, analysts predict that 21.4 million users will own smart speakers.
As a result, your website should be prepared for this trend, especially if you specialize in e-commerce. At its core, your preparation is to optimize your website's SEO for voice queries from users.
Trend #5. API-First Development
The next trend on our list is tied to making your website as flexible as possible in order to correctly interact with other applications and devices. This is the result of the widespread adoption of various wearables and other devices that integrate with each other. And for an easier process of creating websites for such devices, an API-first development method was created.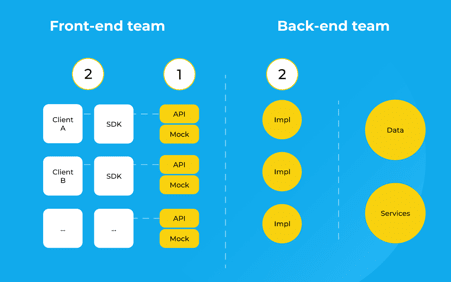 However, why come up with a new way of developing when there is a time-tested conventional approach? The fact is that when developing a web or mobile application, little attention is usually paid to API development due to building a pipeline of a standard process. In the best case, the API is a side project that will not cost a lot of resources.
Meanwhile, the API-first approach significantly redesigns the development process, making it more streamlined and simplifying API development.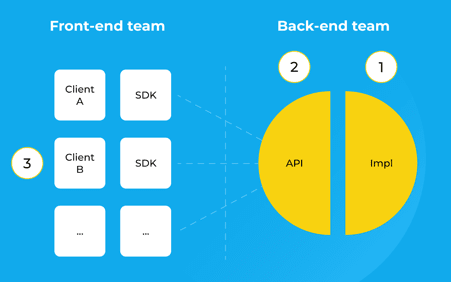 Trend #6. Push Notifications
This tool is a great way for your site to interact with users and provide a pleasant user experience in general. Previously, push notifications were the privilege of only full-fledged mobile applications. However, with the development of technologies and web development tools, it became possible to implement these notifications in the usual websites and web applications.
Often, push notifications serve as a way to deliver personalized information to the user. For example, this could be a notification about a new blog post or a tracked item that is now on sale. The most convenient thing is that the user can receive such personalized notifications without the need for mandatory registration. As a result, these provide another way to interact and retain your audience.
Trend #7. AI-Fueled Chatbots
Excellent customer support is one of the keys to a successful business. And if your enterprise operates in multiple time zones, organizing good customer support becomes a headache. Chatbots are a technology that comes to the rescue of such businesses. Their main task is to provide automated customer support on any day of the week, at any time of the day.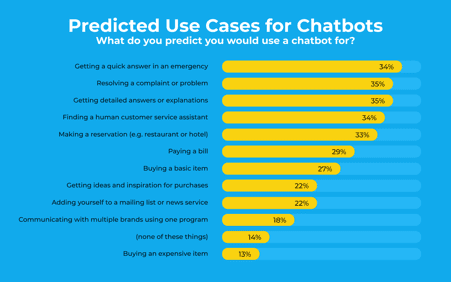 Chatbots are a set of artificial intelligence algorithms that can conduct meaningful dialogue (advanced chatbots) or analyze user requests and respond with pre-prepared phrases. In any case, they are able to provide the user with advice and assistance on emerging issues, which makes the user experience excellent.
Trend #8. Motion UI
The perfect design is what all digital products and websites should strive for. Developers use various tools to help achieve this result, and one such tool is the Motion UI. This is a library that contains various tools that help developers in every possible way to animate various elements of the website, customize them, and much more. All this allows you to effortlessly achieve a unique design. This library is extremely popular, as it can work with any JavaScript environment, which is the basis of modern website-making.
Wrapping Up
These were our top trending website design trends for 2021. As you can see, in all their diversity, they are designed to improve both the way your website feels and looks. You can follow just one trend or mix them all to maintain a competitive edge and boost your website's success.
Author's bio:
Vitaly Kuprenko is a technical writer at Cleveroad, a mobile and web app development company in Ukraine. He enjoys writing about tech innovations and digital ways to boost businesses.