Do you have a WordPress website? Then surely one of your goals is to attract traffic, that is to have as many visitors as possible. In order to increase your website's visibility, you need to implement good SEO practices that will get you a top position in the results generated by various search engines.
Nowadays, it is very easy to build a website even if you have no experience. You don't have to be a tech geek to build a neat, intuitive and attractive website in WordPress. However, it's not enough to have a well-designed website – it's SEO efforts that will help you get the traffic you want and improve your brand awareness, regardless of the content you offer and how good your interface looks.
In this article, we will see why is WordPress SEO important and learn some of the best WordPress SEO optimization tips that you can put into practice right now to help your website get more organic traffic.
What is SEO?
SEO, which stands for Search Engine Optimization, refers to a set of techniques and tools designed to increase the visibility of a website by ranking it higher in search engine results. The objective of SEO practices is to increase the amount of traffic to a website through organic search results without paying for it.
By implementing a smart SEO strategy, the search engine understands your content better and is able to present internet users with the best results according to their search queries. If the content of your website is SEO-optimized, it will be easier for the search engines to find you.
SEO techniques and tactics contribute to a better ranking of content in search engines. The higher you rank in search results, the more organic traffic and conversions you get. WordPress is a great content management system (CMS) for SEO, and many blogs and brands rely solely on organic search results.
SEO is divided into two main categories: on-page SEO and off-page SEO. The two must work in harmony to achieve the desired results. On-page SEO is all about the content of your website and the elements that you have control over and can change yourself. Off-page SEO encompasses the marketing activities that take place outside of your website and contribute to earning the trust of your target audience.
Before we see why SEO is important for WordPress, let's have a brief description about on-page SEO and off-page SEO:
On-page SEO: on-page optimization factors greatly influence your website's position in the search engine results. Here we are talking about aspects of your website content that you should constantly review and make sure are up-to-date and relevant. These include keywords in titles, good page loading speed and quality content;
Off-page SEO: if on-page SEO is all about optimizing the internal aspects of your website, off-page SEO boosts your credibility by getting links from other websites. Google or other search engines analyze how many other websites link to yours, and links from trusted sources will result in the search engine favoring you over competitors that offer similar content that is not as well optimized off-page.
Why is WordPress SEO important?
WordPress is a content management system that has become the most popular platform for building websites. While originally considered a blogging platform, it is now used by businesses across all industries. Among other things, you can use WordPress for:
Blogs;
eCommerce;
Portfolios;
Informational websites;
Online galleries;
Forums;
Easy to use even for beginners, WordPress is flexible and integrates a lot of settings that allow you to tailor your website according to your needs and desires. The tens of thousands of plugins you can use for free extend the basic functionality of WordPress and can come in handy for improving the user experience and making SEO efforts more efficient.
For example, a plugin that speeds up the loading of your website will help you rank better in Google results, because the search engine loves pages that load fast.
Whether you have a blog, an online store or a business providing services and your website is built on WordPress, you need a solid SEO strategy that will rank your website high in search results generated by Google or other search engines (such as Bing or Yahoo). It's true – WordPress is SEO-friendly and helps you adopt practices that improve your ranking (such as using free plugins that help you gain a better page loading speed). However, you still need to implement optimization tactics that will bring you quality traffic.
SEO is important for your WordPress website because it builds a solid digital presence and makes it gain credibility among users. As an internet user, you can confirm that people tend to go to the first links when searching for something on Google. We rarely end up on the second page of results when searching for something on the internet (a piece of information, a recipe, a product, etc.) Keep this in mind when asking yourself about the importance of WordPress SEO optimization: it is important to be visible in order to get conversions.
These are just 5 of the reasons why optimizing your WordPress website is important:
Building digital presence;
Increasing conversion rate;
Gaining trust;
Targeting an audience interested in your content;
Improving visibility;
WordPress SEO optimization tips that every WordPress website owner must know
Recent analysis has shown that about 75% of internet users do not get past the first page of results in their searches, which means that success belongs to those at the top. Reason enough to look into the best SEO tactics to increase your traffic.
Here are 10 WordPress SEO optimization tips that will help your website rank better and maximize search traffic:
Performing Keyword Research
It's no surprise that performing keyword research comes first. After all, keywords are at the heart of any successful SEO strategy and perhaps the most important piece of the puzzle on the road to more traffic. Through well-done research, you can find out which keywords users are most likely to type into the search bar to find content, products or services that are similar to what you offer.
We do not recommend that you choose keywords intuitively. Documentation is crucial to find out what users are really looking for and what their expectations are. For example, if you own a blog, it's not a good idea to start writing an article without researching keywords first. By analyzing the searched terms and their traffic volume, you will find it easier to choose a topic and come up with content that meets users' needs.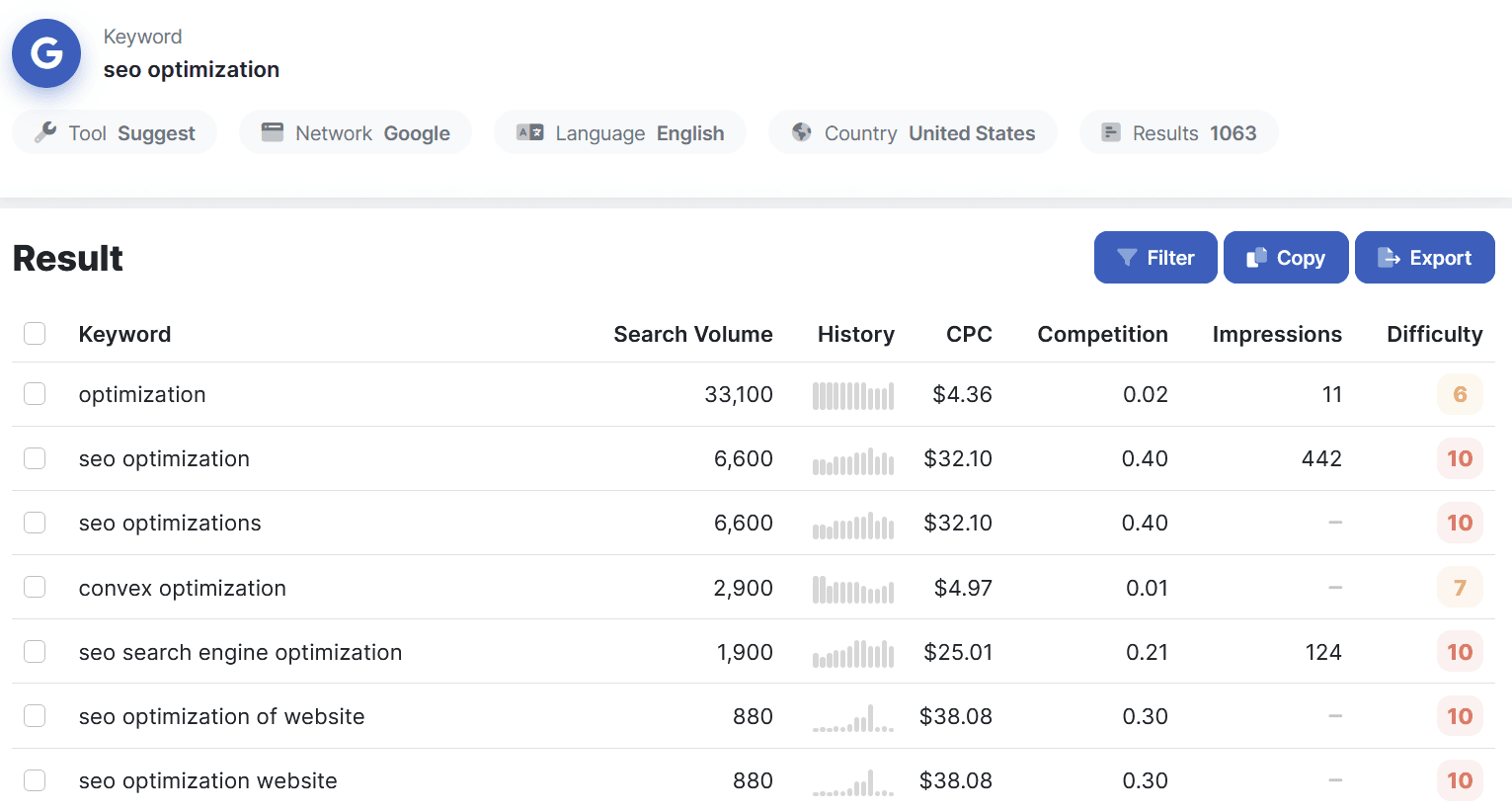 In the keyword research phase, you can take several actions:
Brainstorm: you can start by writing down some keywords around which the content of your website revolves. What kind of content do you offer? What area of activity does your content fall into? Maybe you have a blog aimed at fitness enthusiasts. In this case, the words you should focus on are "fitness", "sport", "weight loss" and many other words or phrases that the audience interested in this topic usually searches on Google;
Use an effective keyword research tool: using such tools, you can quickly find meaningful keyword ideas with a high search rate among internet users. You will quickly get an overview of the most popular keywords, which you can then cover in your content;
Analyze the keywords used by your competitors: as a rule, to outperform your competitors, you must first know them. Keywords are an essential part of a good WordPress SEO optimization strategy, so you can be sure that your competitors are making the most of them. Conducting an analysis of the keywords they use, a process for which you can use certain tools (some even free), can help you better plan your content.
Image Optimization
Images are an indispensable part of a website's content. They add color and context to the content and are an engaging element. Before using rich media for your WordPress website, we recommend you take a step back. Here is why. Often, large images are the cause of slow load times and poor performance.
Image optimization means reducing the size of the images you use on your website, which is worth around 90% of the overall size of it. To avoid compromising on image quality, you can use an image optimization tool that saves you from resizing photos manually. This means that you will get a better loading speed and your website will have a good chance to appear in the top positions of the results page, because Google loves fast websites.
In addition, we should not forget the importance of mobile. People use phones for numerous reasons, and one of the most common reasons is to visit websites to find information. In fact, more than 50% of website traffic comes from mobile phones. The BBC also found out that with every additional second of page load time, 10% of users will leave. Therefore, it is important that you invest in your SEO plan and optimize your images to reduce the weight of your website and improve the loading time.
Below are the results of an optimization report before and after using ShortPixel Adaptive Images to serve optimized images. As you can see, the score improved significantly, mainly because the time to fully load the page dropped from 7.5 to 4.4 seconds, and the total page size was reduced from 2,74MB to 677KB.


To help our clients achieve the desired loading speed of their website and fix the "Properly Size Images" error that is often encountered in performance tests like PageSpeed Insights or GTmetrix audit, we have developed a plugin that serves optimized and properly-sized images on a WordPress website on-the-fly from a global CDN.
Here is how the ShortPixel Adaptive Images (SPAI) plugin helps you get better SEO results by ensuring faster loading speed of your website:
Serves compressed and optimized images by up to 90% without affecting their quality;
Displays images adapted to the user's screen size;
It uses a global CDN and delivers images from a fast and reliable server;
Delivers images in next-gen formats (WebP and/or AVIF).
You can try the plugin right now and see how it improves the Core Web Vitals of your website.
Internal Linking Strategy
Simple and effective, the internal linking strategy can bring you excellent results. It consists of including internal links in the articles you publish, i.e. linking from one page/post on your website to another page/post (also on your website). This way, you attract more visitors to different pages on the same website and establish a strong link between them, which makes it easier for Google to index your website.
For example, when you post a new blog article and mention a term or concept that you have covered in another article, you can use internal links to point readers to it. This way, you will get more traffic while making it easier for users to navigate the website.
Here are some tips on internal linking strategy:
Make sure you include only relevant links;
Include links to important pages on your website;
Do not use the same anchor text for two pages with different content;
Limit yourself to 2-5 links per article (depending on the length of the article).
Friendly Permalinks
If you use WordPress, you have probably noticed that it offers several options for structuring URLs, and it's best for SEO and visitor readability to choose a custom option. In customizing permalinks, keep in mind the title of the post or page they were created for.
Also known as "Pretty Permalinks", they can help the user quickly understand what the page is about – the same goes for search engines, which find it easier to read SEO-friendly URLs. Weird permalinks that contain a lot of numbers and an uninformative message are not ideal for WordPress SEO optimization and will affect your visibility in search engines.
To change the default permalink structure, navigate to your WordPress dashboard, go to Settings → Permalinks, and select one of the permalink structures or set your own in the "Custom structure" field using the structure tags.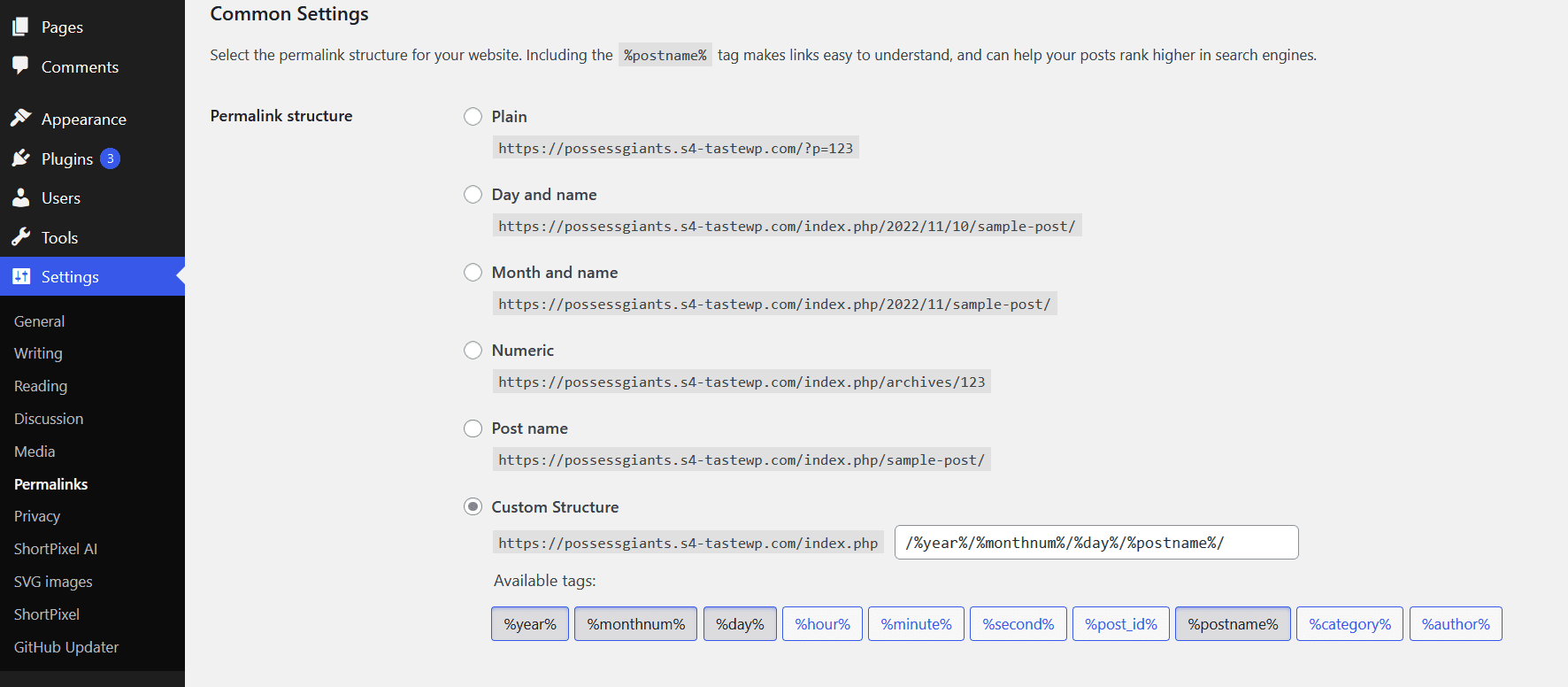 Example of a SEO-friendly URL containing only the %postname% tag:
https://shortpixel.com/blog/essential-wordpress-seo-optimization-tips/
When you create a permalink, make sure that it:
Includes keywords;
Is descriptive;
Is simple and easy to understand;
Is unique.
Reliable Hosting Provider
Website hosting is the server where all the website data is stored. You need to choose a hosting provider that will ensure a good user experience through the speed of displaying and loading content. Another important feature that the right hosting provider must fulfill is security.
The SEO performance of your WordPress website is affected by slow loading speeds and possible security vulnerabilities. These are the best reasons to think twice before making a choice and not go for the cheapest option right away. Here is what a reliable hosting provider should offer:
Optimal content loading and viewing speed;
Security;
Support services;
Flexible plans.
Using Headings and Subheadings
Structuring content using headings is a way to help both the user and the search engine get an immediate picture of the content. Headings and subheadings make an important contribution to the success of your WordPress SEO optimization efforts, because texts are more clearly organized.
H1 is the title of the page and should contain the most important and relevant keyword. In the content of the article, you can use several headings (H2-H6) to structure your content. The text is easier to read and clearer, and the keywords can appear even in additional headings.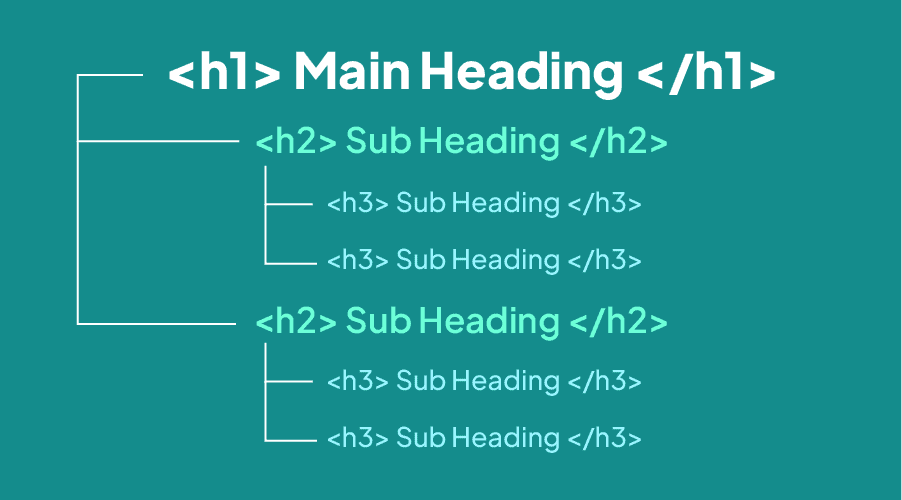 How to structure your headings correctly?
H1 is used for the main title of the page/post. You should have only one H1 per page.
As you write your content, H2 and H3 are used as subheadings for different sections and may contain a keyword;
H4 to H6 headings can be used as subsections for additional information, even though it's rather rare for content to go that deep on a page/post.
Compelling Meta Descriptions
A well-written meta description will increase the number of clicks, which means more traffic. These descriptions indirectly influence the organic results your website gets through click-through rate (CTR). Many website owners neglect this and assume that shallow descriptions will not affect their traffic, which is definitely not true.

Meta description has a great impact on the users as it is the first section they come into contact with when they find your website on the search page. Although it's only about 150 characters, it can lead readers to click or move on. The purpose of this snippet of information is to quickly answer the reader's question: "is this the website I am looking for?" and show them if the page is related to their search query;
Here are some tips on writing correct meta descriptions:
Answer the potential question/question of the user;
Don't use descriptions that are too long (stick to 150-155 characters);
Enter keywords;
Write a unique and engaging description;
Choose only relevant information;
Include a call-to-action phrase.
Lightweight WordPress Theme
You may have never thought about it before, but the theme you choose for your website has a huge impact on its loading speed, and therefore influences SEO. You don't necessarily have to invest in an SEO-friendly theme, it's enough to choose one of the free themes available that doesn't slow down loading speed with useless scripts and plugins. Here is a list of lightweight and fast WordPress themes.
Ideally, pages should load in 1-2 seconds. Since you don't want the theme to be a reason for increasing the overall loading time of your WordPress website, you should pay attention to the following when choosing the theme:
The theme is responsive (adapts to any type of device, such as desktop, phone, tablet, etc.);
The theme is compatible with the plugins you use;
The theme is updated regularly;
The theme has a clean and efficient code.
Adding ALT text to images
About 20% of Google's search traffic comes from Google images. Why not take advantage of this and add more text to all the images on your website? The idea behind alt text is to describe to the search engine and screen readers what the images look like, which gives them extra visibility. The image name should be suggestive, representative and directly related to what it represents.
You can add alt text to images in WordPress by going to Media → Library, selecting an image, and then editing the "Alternative Text" field, as seen in the screenshot below.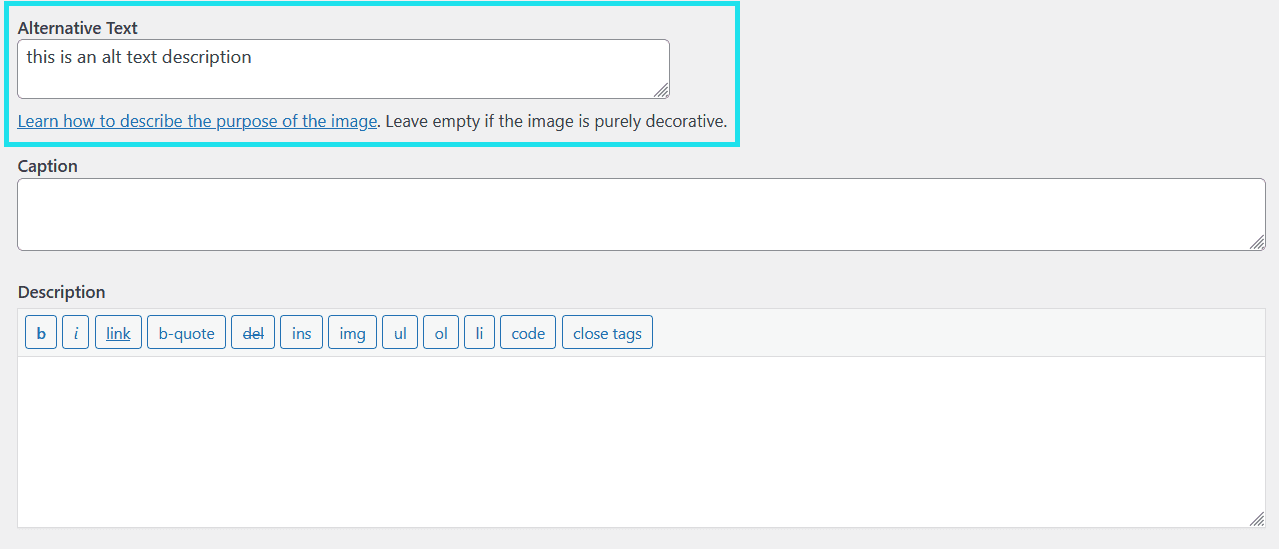 How do you write a good alt text?
Don't use too many keywords (the text would sound robotic and Google would realize that your goal is just to rank your image better);
Enter keywords naturally;
Be specific;
Limit yourself to 125 characters;
Avoid redundant information (if the image already has a caption, try to add additional information about the context instead of repeating the same thing).
Avoiding duplicate URLs
Duplicate content is content that can be found at different URLs but is identical. In such situations, the search engine may have difficulty when it comes to listing a website at the top of the search results. If the search engine considers your content to be a duplicate, your rankings will be affected. This often happens due to technical errors. The important thing to remember is that search engines don't like duplicate content, because it gives them extra work in indexing.
You can implement these actions to avoid duplicate content:
Do not make content available under multiple addresses;
Redirect duplicate content to the specific canonical URL (basically, you tell the search engine where the original content is located);
Do not create duplicate content.
Conclusions
There's doubt that WordPress is an SEO-friendly content management system. However, the efforts of website owners to implement SEO tactics that bring them a better position in search engine rankings are crucial.
Sometimes it's just small steps like optimizing images or adding alt text that can make a difference in the traffic your website gets. Don't overlook the loading speed of your WordPress website, as it's essential to the success of your SEO efforts.