Everybody knows that ShortPixel is the leading image compression service, and because of this and WordPress being in more than 40% of all the websites in the world, our plugins ShortPixel Image Optimizer and ShortPixel Adaptive Images are very well known (and don't forget their cousin Enable Media Replace, recently reaching 500,000 active installations!).
But from time to time we like to release little and very useful features that make use of our awesome compression API. This time we are introducing Archive Optimizer.
What is Archive Optimizer?
Archive Optimizer is a tool we have integrated in every client's account that allows to upload a ZIP file with image files inside, and then download it with the same images optimized while keeping the original folder structure. Think about all its possibilities:
You can free up space from your cloud account
You can free up disk space on your local computer
You can compress all your images on your non-WordPress website
You can send those amazing pictures to your friends and family faster
etc.
How do I use it?
First of all, you need to have an account on ShortPixel. If you have one, click here to login. If you don't, click here to sign up.
Once logged in, go to the Archive Optimizer section.

Using the tool is very easy. Click on the box and choose your .zip file containing images (or drag and drop it into the box). It doesn't matter if your .zip file contains more than images; only the JPG, PNG, GIF and PDF files will be optimized.
Once you have the .zip file in the box, click on OPTIONS before starting the upload: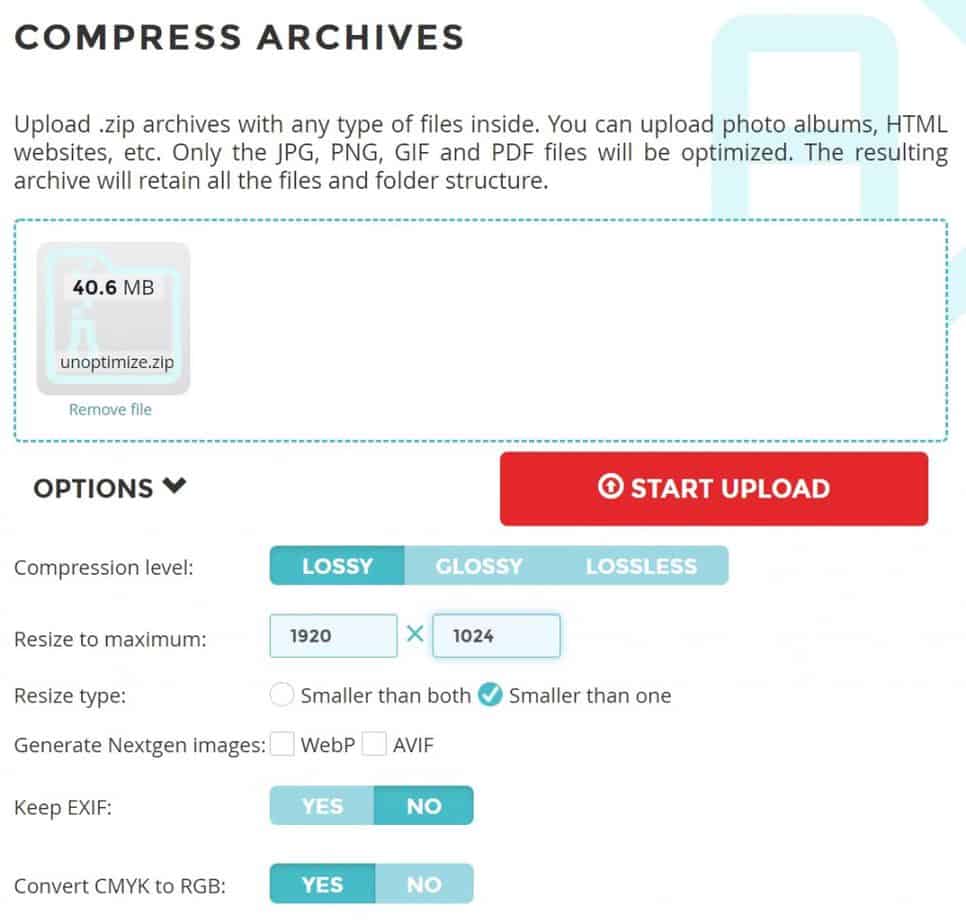 What does each option do?
Compression level: here you can choose one of the famous ShortPixel compression levels. Learn more about compression levels here.
Resize to maximum: you can even make your image size smaller if you input a maximum size here, in pixels. For example, entering 1920×1920, all your images will be resized to maximum 1920px (wide or tall), keeping the aspect ratio.
Generate Nextgen images: do you know what WebP and AVIF are? With ShortPixel you can create those files too! If you select one or both of the boxes, you will get those files in the .zip files in addition to the original optimized.
Keep EXIF: Usually photographers or other professionals like to keep the EXIF information. This information is embedded in the image itself, so you can choose to remove it if you don't know what it is or if you don't need it.
Convert CMYK to RGB: If you are only going to use your images on the web, you only need RGB. Converting them from CMYK to RGB makes them smaller.
After you have selected your options, click on START UPLOAD. Your file will upload and then the optimization process will start. Go grab a coffee!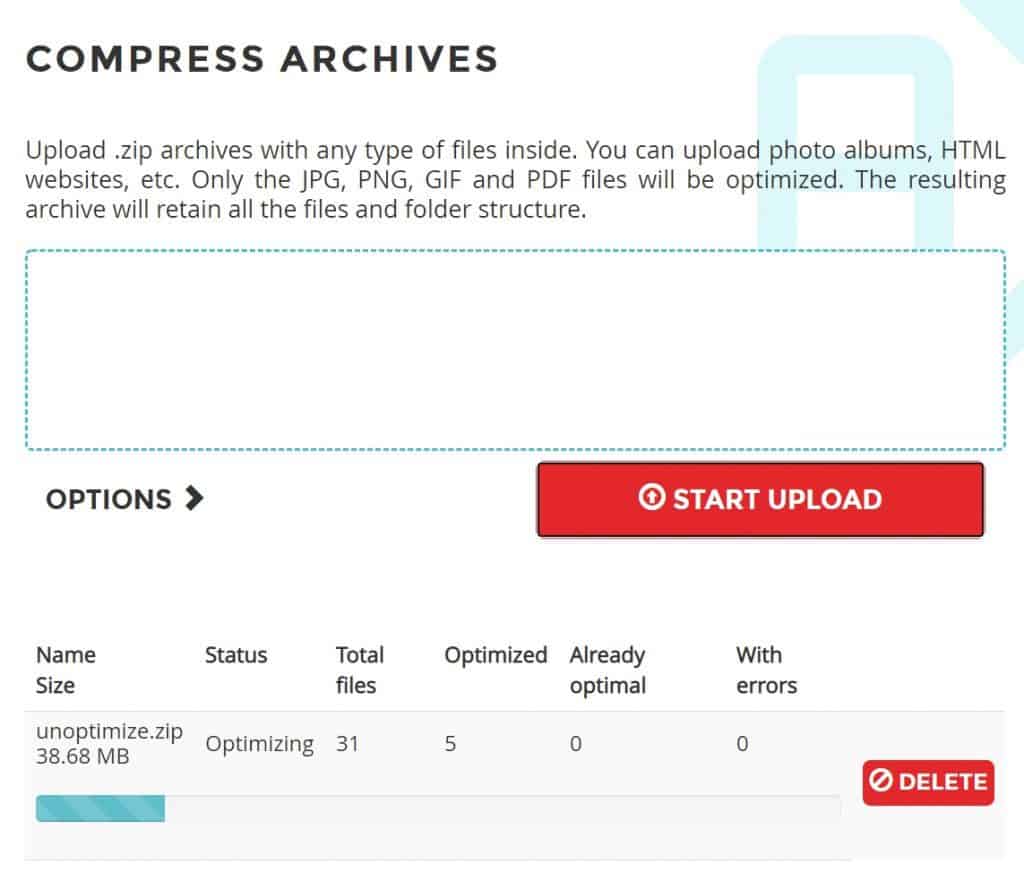 Once finished, you'll be able to download your optimized files:

How much does it cost?
One credit per image optimized. You also need to remember that every WebP file and/or AVIF file will cost one credit as well.
Happy compression!