ShortPixel Website Optimizer offers a straightforward web interface to our API, available to any PHP website (Magento, Joomla, Drupal, custom brew, etc.) and allows optimization of the site's image and PDF folders. While you optimize a folder, you can watch the optimization progress in the browser.
Installation
Step 1: Download the latest stable release: ShortPixel Website Optimizer v. 1.1.0(lib.1.1.5) and unpack it in your website's root folder. You should find a shortpixel-web subfolder that was extracted from the archive.
Step 2: Check the rights of the created folder and files. If you used a web tool like CPanel to upload it and unpack the archive, it should be OK but if you uploaded it as root for Linux or Administrator for Windows, you might need to change the rights in order to allow the Webserver user to write to the shortpixel-web folder. For Linux just run the command sudo chown -R www-data:www-data shortpixel-web
Step 3: Open in browser the ShortPixel Website Optimizer startup page at http://[[your.website.domain]]/shortpixel-web/webroot/index.php. If the page loads properly, you're up and running. If the page does not load, it usually means that there are rewrites in the server configuration files that redirect all URLs to a master script. Depending on your webserver, you might need to make specific changes in the webserver configuration.
Optimizing folders
In order to optimize images and PDFs with ShortPixel Website Optimizer, you need to have an API Key. If you don't have one yet, you can request one for free in our Sign-up page. After you have your API Key, follow these simple steps to optimize your images and PDFs: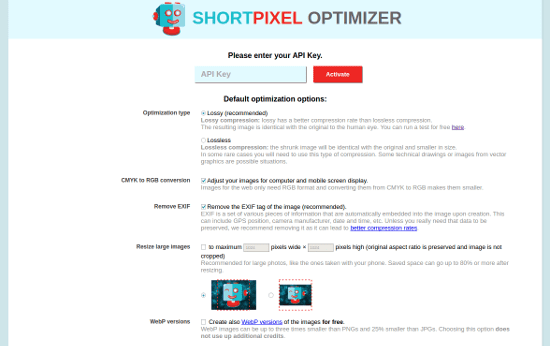 Step 1: Review the default settings and input the API Key to activate ShortPixel Website Optimizer. The settings will be saved in a file shortpixel.ini in the shortpixel-web folder.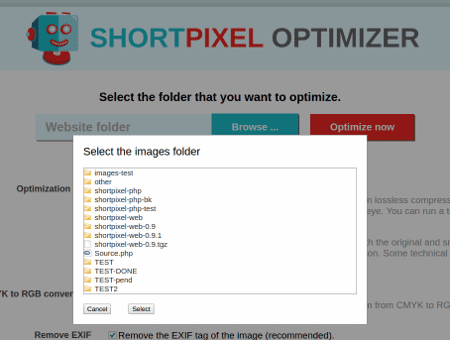 Step 2: Select the folder that you want to optimize and press Optimize Now. If you change the defaut settings, the changed settings will apply only to the selected folder. You are also prompted for a corresponding URL for the folder - ShortPixel Website Optimizer tries to figure it out itself but you can change it if it's not correct. Using a corresponding URL will significantly speed up the optimization as the images are sent as URLs and our optimization servers can download them asyncronously instead of waiting for one big POST attachment to be uploaded. You can also press ignore if the folder is not accessible via Internet.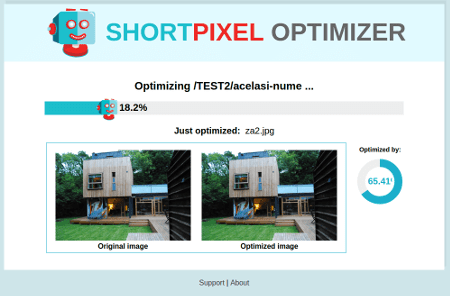 Step 3: Sit back and relax while ShortPixel Website Optimizer optimizes the files for you. Please remember to keep the browser open in order for the optimization to proceed. If for any reason you close the window or the Internet connection is temporarily down, just select the folder again after reloading the page, and the optimization will continue from the point it left.
Under the hood
ShortPixel Website Optimizer sends each image to our optimization servers and retrieves the optimized version, replacing the original. You need an internet connection in order to be able to optimize images with our service.
ShortPixel Website Optimizer creates for each folder that is selected for optimization a .sp-options file containing the selected options for that folder. Also in each folder and subfolder, a .shortpixel file is created, containing the optimization status for each file and subfolder in that particular folder alongside with informations such as the file size, percent improvement and optimization date.