Since high-quality images tend to be larger, the large image file sizes slow your website load times. Thus, in most cases, you must compress the high-quality image and reduce their size.
The most handy thing you can use to compress your images is an online image compression tool. Most of these tools are simple and free to use.
These tools balance image quality and size, ensuring visuals don't slow down websites. Also, you don't need to manage, maintain, or control these tools.
Now, which online image compression tool should you use?
To solve this confusion, we have used some of the top online image compression tools and noted our experience.
In this article, we have discussed the 7 top online image compression tools you can use right now to reduce image sizes.
Let's dive in!
Top Qualities of an Ideal Online Image Compression Tool
A good image compression quality should provide you with some benefits in various ways. Let's look at some qualities an ideal online image compression tool should have:
Post Compression Quality
Extensively compressing an image decreases its visual appeal. It will lose its visual appeal and clarity. Thus, the picture won't serve its purpose of getting precise attention anymore. Hence, an online image compression tool should be able to compress images without reducing their quality.
Image Size Reduction
High-quality images with low storage consumption are your best friends. An efficient image compression tool should reduce image file sizes without degrading quality. It uses intelligent algorithms to keep photos looking good while saving space. It helps websites load faster, use less data, and have sharp, clear images.
Usability
One of the main benefits of online image compression tools is their ease of use. You don't need to create, install, or maintain them. Just get to the image compression tool website and use its drag-and-drop interface to compress your images. Whether a novice or an experienced user, you can navigate and use an online image compression tool efficiently.
Supported Image Formats
Efficient online image compression tools should support standard file formats such as PNG, JPG/JPEG, and GIF. This flexibility allows you to select and compress their preferred image formats in one compression tool. It makes image compression easy and flexible for you.
Faster Compression Speed
The speed of image compression is vital for you. The best image compression tools are fast, which is beneficial for compressing many images simultaneously. Besides, a fast image compression rate saves time and improves productivity. It lets you compress images instantly, speeding up your work.
Cost Efficient
Since everyone has different needs and budgets. So, online image compression tools must offer various prices for diverse users. A helpful image compression tool should provide options such as free use, low-cost paid plans, and solutions for large corporations. This way, everyone, regardless of their budget, can use the image compression tool.
7 Best Online Image Compression Tools
So, based on their reputation and rating, we selected the 7 best image compression tools from a pool of several popular and efficient online image compression tools.
Let's get a complete overview of the 7 best online image compression tools:
Shortpixel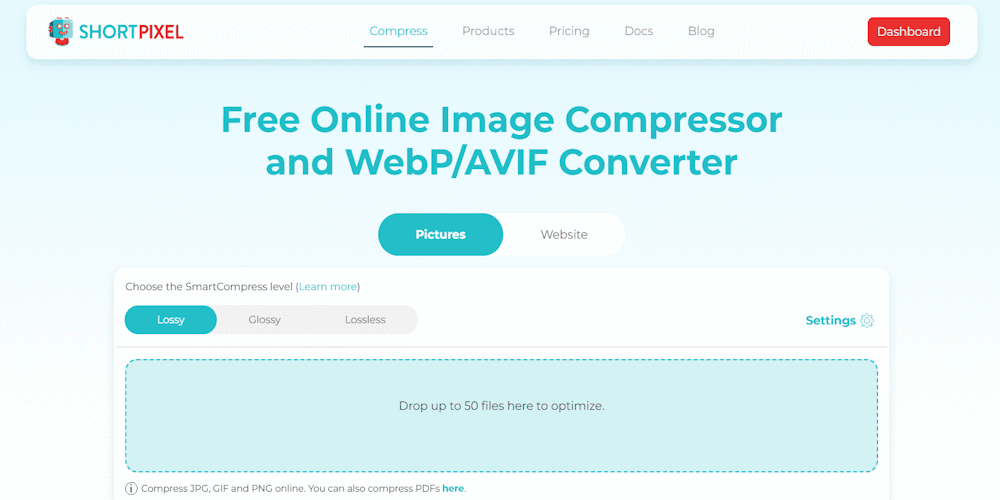 Shortpixel is the most beneficial online image compression tool for reducing image sizes while maintaining image quality. Its advanced image compression algorithm, Smart Compression, sets it apart from the competition. When it comes to image compression, Shortpixel is the best tool in the business.
ShortPixel offers three image compression methods: Lossy, Glossy, and Lossless. You can use any of these three image compression algorithms to reduce the size of an image. With Shortpixel, You can compress all popular image formats such as PNG, JPG/JPEG, and GIF.
Shortpixel initially allows you to compress 50 images at once, with each image having a maximum size of 10 MB. But you can remove these restrictions by signing in for free.
You can easily optimize your WordPress website images with the Shortpixel WordPress plugin. Moreover, you can remove and add image background color.
Shortpixel Key Features:
Offers three image compression algorithms
SmartCompress algorithm minimizes file size while preserving image quality
Provides image editing options such as resizing, adding/removing backgrounds, and more
Compress up to 50 images at once, 10MB for each photo
Drag and drop upload options.
Price: Shortpixel online image optimizer tool is completely free.
TinyPNG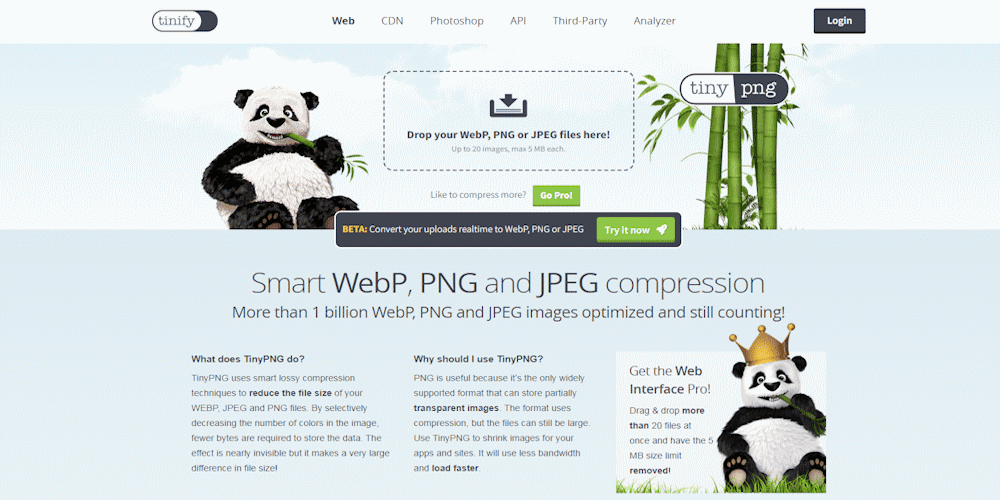 TinyPNG is one of the most popular and trusted online image compression tools. It has compressed over a billion images and counting.
TinyPNG supports JPEG, PNG, and WebP image compression. It can compress up to 20 images simultaneously with file sizes of up to 5 MB. You can download the compressed images to your computer or save them to Dropbox.
Tiny PNG can reduce image sizes by more than 70%. With your naked eyes, you can't tell the difference between the images before and after compression.
TinyPNG also offers plugins for various content management systems, including WordPress and e-commerce platforms like Prestashop. The WordPress plugin makes image compression a breeze on your website.
TinyPNG Key Features
Compress more than 70%
Supports popular file formats, including PNG, JPEG, and WebP
Lets you compress 20 images at once, 5 MB each
Save compressed photos to Dropbox
Provides add-ons for almost all well-known CMS
Pricing: Starts free and offers premium plans starting at $39 per year.
JPEG Optimizer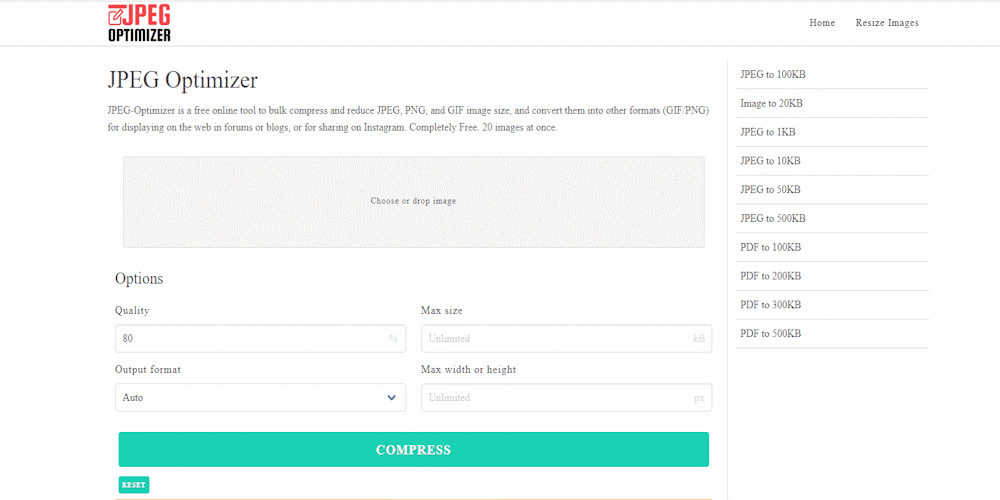 JPEG Optimizer is a clever online image compression tool popular for compressing images to a specific file size. You can compress images to 100kb, 500kb, 50kb, 20kb, 10kb, and 1 kb using the JPEG Optimizer.
With a JPEG optimizer, you can control the image quality of the compressed image. You can also set image dimensions, quality, maximum file size, and output format.
Regardless of the name, it can compress PNG and GIF images and JPEG images. Besides being an image comparison tool, it can also convert images to various formats.
Using the default or custom settings, the JPEG Optimizer can compress up to 20 images at once. It has a default image compression rate of 80%, which can go up to 99%.
JPEG Optimizer Key Features
Resize images to a specific file size of 100kb, 500kb, 50kb, 20kb, 10kb, and 1kb
Convert compressed images to PNG, JPEG, or GIF formats
Customize compression quality
Compress up to 20 images at once
Change the height and width of the compressed images
Price: JPEG Optimizer is a free tool.
Optimizilla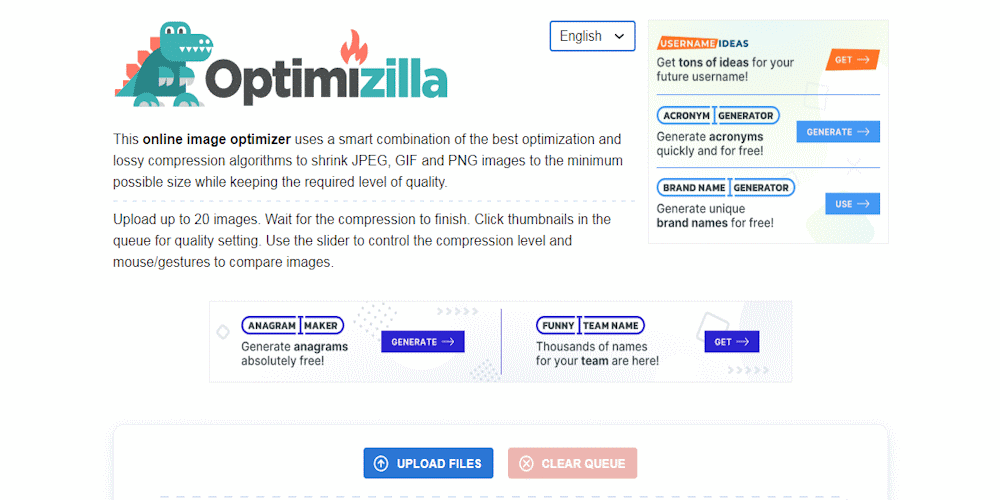 Optimizilla is a simple, user-friendly, and highly effective image compression tool. It uses a clever combination of lossy compression algorithms and advanced optimization techniques to reduce image file sizes.
You can view all of the compressed images in a slider, track their compression progress, and decide the level of compression used on each image. Besides, you can also easily remove images you don't want to keep
Another helpful feature of Optimizilla is the ability to customize the compression level for individual images. You can click on an image in the slider, scroll down to preview, and adjust the quality to your liking.
Optimizilla Key Features
Uses lossy compression to reduce image size while maintaining quality
Can compress up to 20 images, including PNG, JPG/JPEG, and GIF file types
Allows manual adjustment of image compression quality
Provides a slider for viewing and tracking image compression progress
Offers the option to download compressed images in bulk or one by one
Pricing: Free
Compressor.io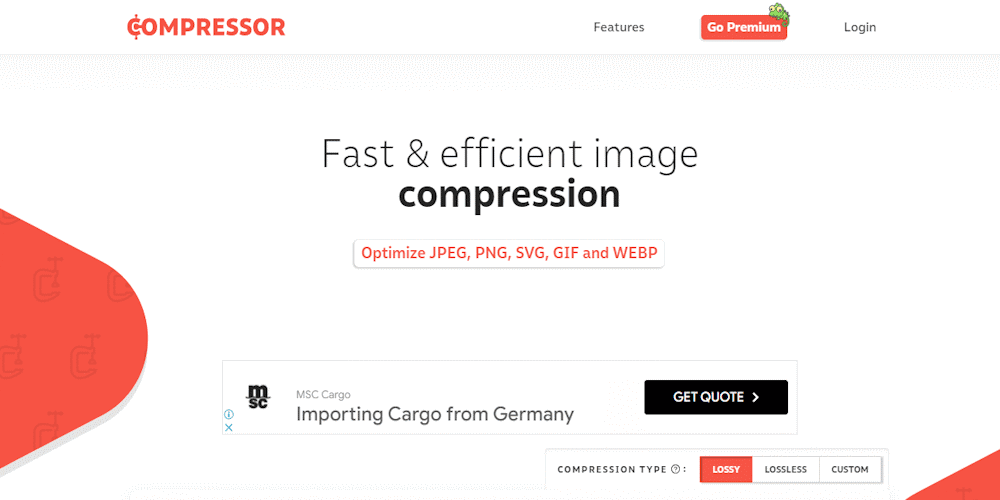 Compressor.io is one of the most efficient image compression tools known for its high compression rates. It employs both lossy and lossless compression methods.
Its lossy compression algorithm can reduce image file sizes by up to 95%, whereas the lossless method achieves reductions of 5% to 20%.
Compressor.io allows you to compress various image file formats, including JPEG, PNG, SVG, GIF, and WEBP. You can compress up to 10 images at once, with a maximum file size of 10 MB each.
Compressor.io includes a useful slider for comparing original and compressed images. After you've compressed your images, you can download them in bulk or one at a time.
Compressor.io Key Features
Easy drag and drop for compression
Supports file types like JPEG, PNG, SVG, GIF, and WebP
Reduces image file sizes without losing quality
Provides options for both lossy and lossless compression
Optimized for SEO and Lighthouse
Price: It's free and offers paid plans starting at $50 per year.
JPEG.io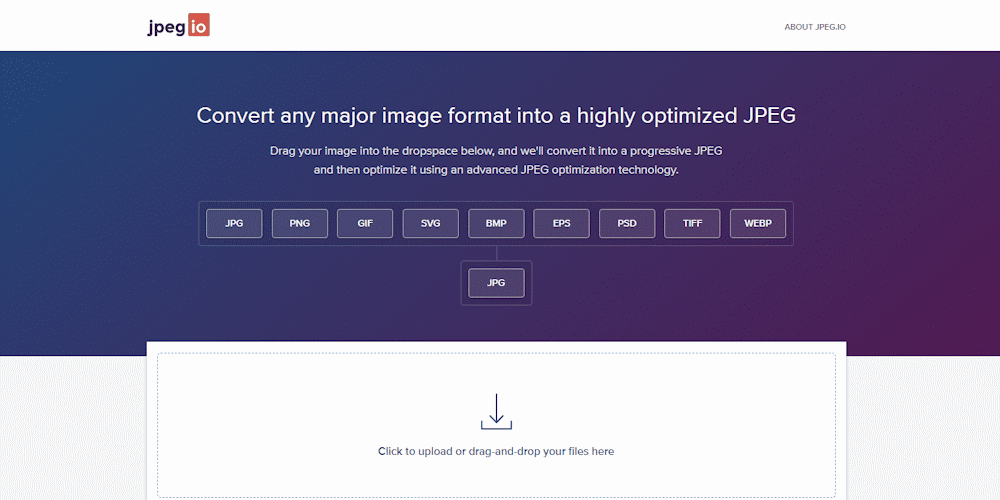 JPEG.io is a one-of-a-kind image compression tool that converts any image to JPEG before compressing it. It supports more image formats than the other tools on this list, including JPG, PNG, GIF, SVG, BMP, EPS, PSD, TIFF, and WEBP.
You upload your image to JPEG.io for compression, select the format, and the tool handles the compression and formatting.
You can also import images for compression from Dropbox, Box, and Google Drive with JPEG.io. After being compressed, you can download several pictures or just one at a time.
JPEG.io Key Features
Converts images to JPEG format before compressing
Works with various image formats
Let's you import images from Dropbox, Box, and Google Drive
Allows for bulk or individual image downloads
Uses a lossy image compression algorithm
Pricing: Free
Imagify

Imagify is one of the most aspiring online image compression tools to compress your images. The tool has a philosophy for speeding up WordPress websites. Thus, It also allows you to optimize pages aside from images.
Imagify employs three compression levels to reduce file sizes while preserving original image quality. It enables you to compress up to six images at a time, with a file size limit of 2 MB, which can be removed by upgrading to a paid plan.
If you use WordPress and need to compress numerous images at once for your website, Imagify has a plugin that makes it easy to compress images with just one click.
Imagify Key Features
Supports popular image formats like JPEG, PNG, and GIF
Easily resize images to your preferred dimensions
Offers three compression options: Normal, Aggressive, and Ultra
Offers a WordPress plugin for one-click image compression
Allows you to compress PDF files as well
Price: It's free up to 20MB monthly and offers paid plans starting at $4.99 monthly.
Which Online Image Compression Tool Should You Use?
Every image compression tool has something unique to offer and serves a purpose for you. There are a few things you should think about when picking the best online image compression tool for your needs.
Let's consider them into 4 vital aspects:
Compression Quality,
Image formats,
Usability,
Compression rate.
Compression Quality
It's critical to reduce file size while maintaining image quality. The better the image quality after the compression, the better the tool's image compression ability.
Shortpixel stands on a higher ground from the perspective of compression quality. It uses advanced algorithms to preserve image charm after large-size reductions. TinyPNG is also noteworthy if you focus on post-compression image quality.
Image Formats
It should be helpful to use a tool that helps you compress different image formats. Tools like Shortpixel, TinyPNG, and JPEG.io support popular formats such as PNG, JPG/JPEG, and GIF.
However, JPEG.io beats other image compression tools, compressing versatile image formats such as SVG, BMP, and TIFF.
Usability
The ease of using an image compression tool can significantly impact your workflow. Tools with a drag-and-drop interface, such as Shortpixel, improve user experience.
Similarly, platforms like TinyPNG, which offer plugins for CMS systems, can make the compression process easier for website developers.
Compression Rate
With their lossy algorithm, Compressor.io can compress up to 95%, Shortpixel up to 90%, and TinyPNG can go more than 70%.
Since the post-compression image quality is vital for your website use, Shortpixel can be an efficient solution, considering its 90% compression rate and higher compression quality.
Conclusion
The primary purpose of an image comparison tool is to serve your needs. So, please make a list of the needs and priorities and start matching them with the features of the image compression tools.
Whether you prioritize image formats, usability, compression rates, or image quality, the key is to find a tool that works in tandem with your goals.
Make sure you pick an online image compression tool that serves your purpose and gives you peace.