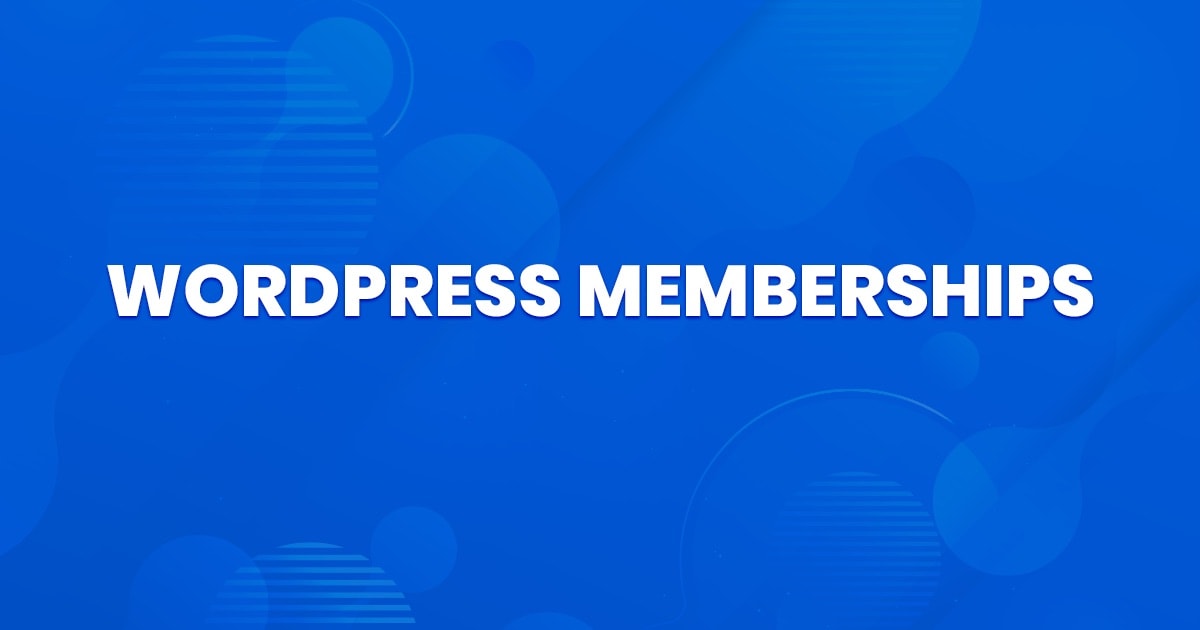 Long story short, website building has never been simpler than it is today. We have numerous resources to craft fast, attention-grabbing websites in a code-free way. Non-techies all over the globe can run their long-awaited websites without trouble in 2019. Thanks to the great digital progress, you can easily manage an online project of any complexity. You can choose from different ready-made products but how to select the right items and of course what does this has to do with WordPress memberships?
Without a doubt, these days everything becomes more and more customer-oriented. People purchase pre-designed sets of pages to manage their websites out of the box. However, the variety of supporting products is super-rich. So, how can you make the right choice for you? Well, that is why I made this post. Here I'm going to name all the popular WordPress memberships today. I'm going to compare them by looking at their main features, so that you can choose the perfect one for you.
Why WordPress?
There are many platforms to work with, so why did I start with WordPress? First things first, WP has been the most popular CMS for many years. Business people from various countries use WordPress for B2B and B2C promos. Here are the WordPress statistics in 2019:
Over 19.500.500 websites are WordPress-based.
60% of these sites use the WooCommerce subscription service, which makes WordPress the most popular eCommerce platform.
WordPress has 500 new websites appearing every day. It also makes WP the fastest growing platform.
There are 37 million searches for "WordPress" on Google each month. And users google the "WordPress" keyword about 2.8 million times in the same amount of time.
There are 17 WordPress posts made every second.
WordPress holds more than 14% of all top-rated online projects. The list includes popular websites such as:
CNN
USA Today
NBC
National Post
Fortune
TIME
Best WordPress Theme Subscription Sites
As you can see WordPress is prevalent everywhere. Would you like to join the global market and craft your website? In this case, you are on the right page. Below I'll describe all the top WordPress memberships and maintenance subscriptions, including the following resources:
ONE Membership
Elegant Themes
ThemeFuse
Crocoblock
Themify
My Theme Shop
ONE Membership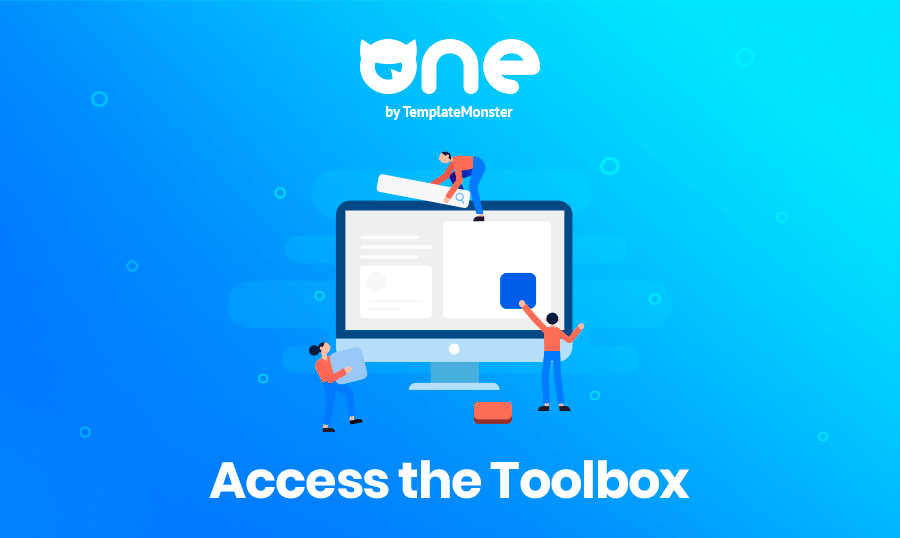 At the outset, ONE Membership is a fresh collection of WordPress themes and many other helpful products. There are ready-made products for all business niches. Basically, by purchasing a membership, you get access to 10,300+ digital assets. All the items are regularly maintained and come with intuitive interfaces. These products are 100% creator-friendly. Users of any skill level can work with them.
Another important point is the live demos. All the themes you can use with ONE WooCommerce subscription service have real-time previews. With it, you can run the live demo of any theme and see how its components work in action. To say more, the mentioned WordPress products are easy to use and install. Plus, they are easy to customize.
In a word, you can install the chosen theme at the drop of a hat and tweak it to your taste. It is possible to change any details. Besides, you can ask for additional services. There are numerous add-ons to enrich your future site.
So, what will you get?
On average, with ONE WordPress membership, you get these options:
 The membership gives you access to the collection of 10,300+ digital items. The list includes website maintenance packages, thousands of WordPress themes, and much more. This access is unlimited, by the way.
You can also choose from tons of CMS templates made for different topics.
ONE Membership offers numerous WooCommerce products made for eCommerce.
Furthermore, with it you can use the extensive collection of powerful plugins, Elementor addons, and other assets.
Plus, you get lots of presentation templates and diverse graphics to improve your promos.
The ONE subscription promises you free regular updates for all the products you are about to use.
Customer support will also be free and available 24/7.
Finally, you get 1 year of premium hosting for free.
The best thing about ONE Membership is that product usage is not limited. It means that there are no restrictions on the number of online projects or domains.
Needless to say, all of these sound cool enough to start building your website.
Price
To start with, a simple ONE subscription will cost you $19 per month. This means $228 a year. As already mentioned, the plan gives you unlimited access to all premium products. Also, there are regular updates, many discounts, and other attractive freebies.
Back to money, ONE service uses only secure payment methods, which includes these options:
Advantages
To sum everything up, these are the main advantages of using the website maintenance packages and themes available with ONE Membership:
unlimited product usage
free, round-the-clock customer support
plugins, graphics, assets
many additional services
1-year-long hosting
lifetime regular updates
2-week-long money-back guarantee
regular discounts
Disadvantage
And what about the downsides? There are no monthly subscriptions before everything else. The prices may be too high for first-time users.
Elegant Themes

Elegant Themes is the next top WordPress membership you might have heard of. These days this is one of the most popular WordPress products subscription sites. Historically, the resource was created as an online base of WordPress-based digital products. This WordPress subscription is quite an old marketplace. It hasn't been updated for years, but people still like using it. And what will you get with the subscription in 2019?
For starters, Elegant Themes has been on the market for more than 11 years. Today the collection contains nearly 90 WordPress themes. It is a small number compared to other top WordPress memberships, but the resource is still in use. Each theme comes with multiple must-have features. These products meet WordPress requirements and provide basic features, such as SEO or versatile design.
Besides, all the themes within the subscription have a mobile-ready design. They come with clean coding, verified typography, and other essentials in the package. Plus, you automatically get 3 premium WordPress plugins for your future websites.
As you can see, the variety you get with the subscription is not super wide. You won't get multiple trendy options and visual web design effects with this option. Still, the subscription fits the needs of those who are looking for WordPress memberships for beginners. Are you one of them? In this case, don't stop reading.
Prices: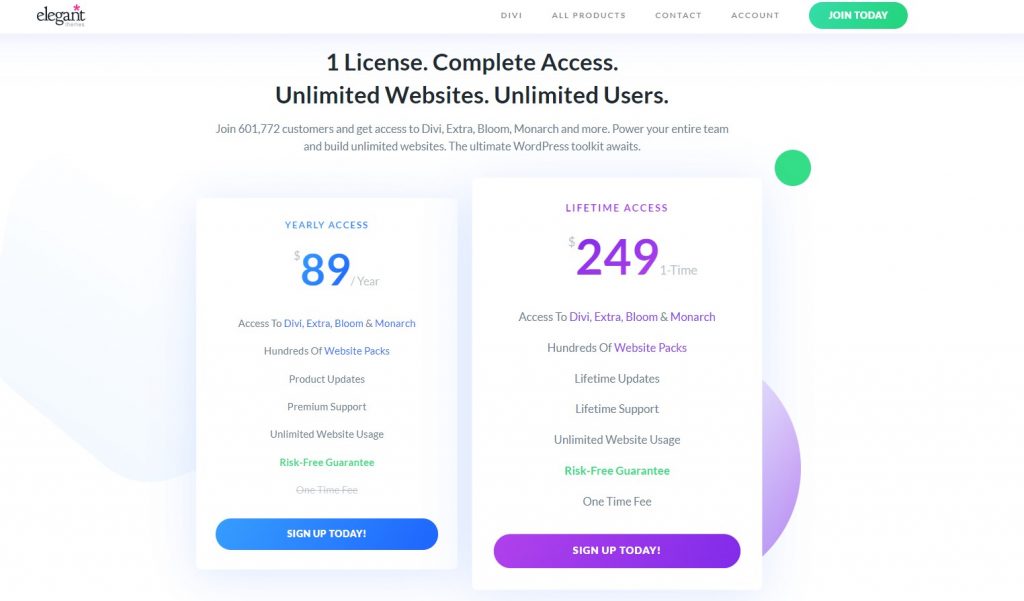 The subscription has only 2 options:
The annual membership will cost you $89 per year. It gives you access to WordPress, Divi, Extra, Bloom, and Monarch products. There are hundreds of website maintenance packages to choose from. Many products come with free updates, and all of them have unlimited website usage. Besides, you get premium support.
The lifetime membership will cost you $249. To make a long story short, you pay only once and get lifetime access to all available products. This subscription option also allows buying individual licenses with discounts.
You have the right to refuse the services of Elegant Themes for 30 days after the purchase.
Pros
In summary, these are the main advantages of choosing this subscription:
30-day-long quality guarantee
subscription options
free updates
premium support
video tutorials
Cons
And these are the main disadvantages:
you can't buy a separate theme, only the whole pack
the lack of shareware themes
uncomfortable site navigation so that you can't search for topics
the lack of recently added products
ThemeFuse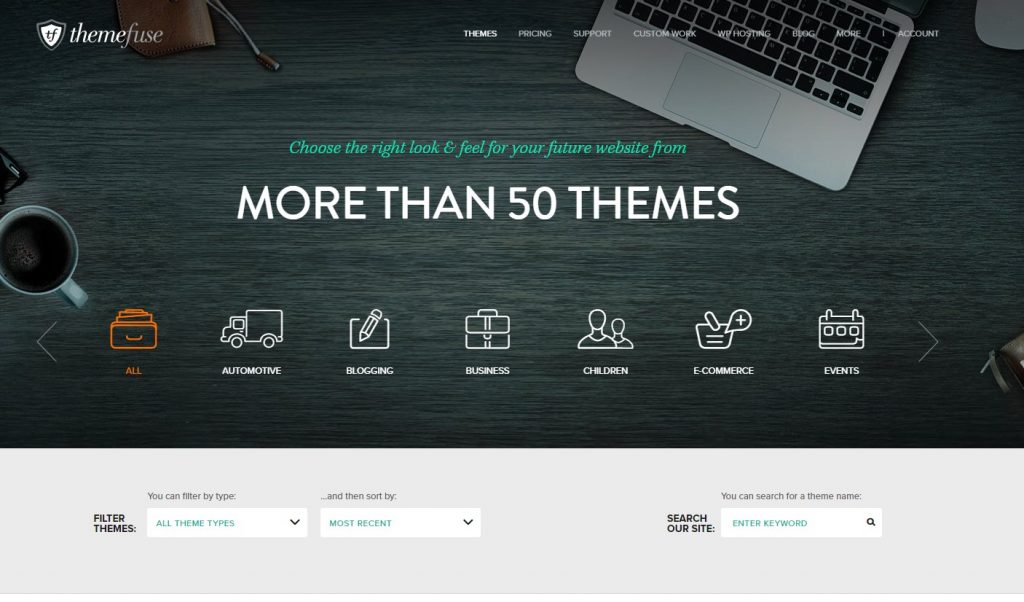 Back to top WordPress memberships, meet ThemeFuse. This is another popular marketplace which offers 50+ eye-pleasing themes crafted for different business topics, including:
food & drinks
health and beauty
blogs
autos
Among all these themes, one product became famous. Its name is the Core. It is a multipurpose theme which includes almost 30 pre-designed layouts. All the elements are ready-to-use and well-featured. They have a minimalist design and all the must-haves.
Main features:
Shortly, these are the main features ThemeFuse membership provides:
53 WordPress themes that are free to install
access to all products with demo content
SEO packages
premium assistance with multiple support options
Furthermore, you have a chance to use some of the company's themes for free. To do it, you should sign up with one of the ThemeFuse hosting partners, like:
SiteGround
Hostgator
InMotion
Bluehost
So, ThemeFuse subscription is still one of the best WordPress theme subscriptions nowadays. In case you are going to use the marketplace, you can choose from 4 membership plans.
Prices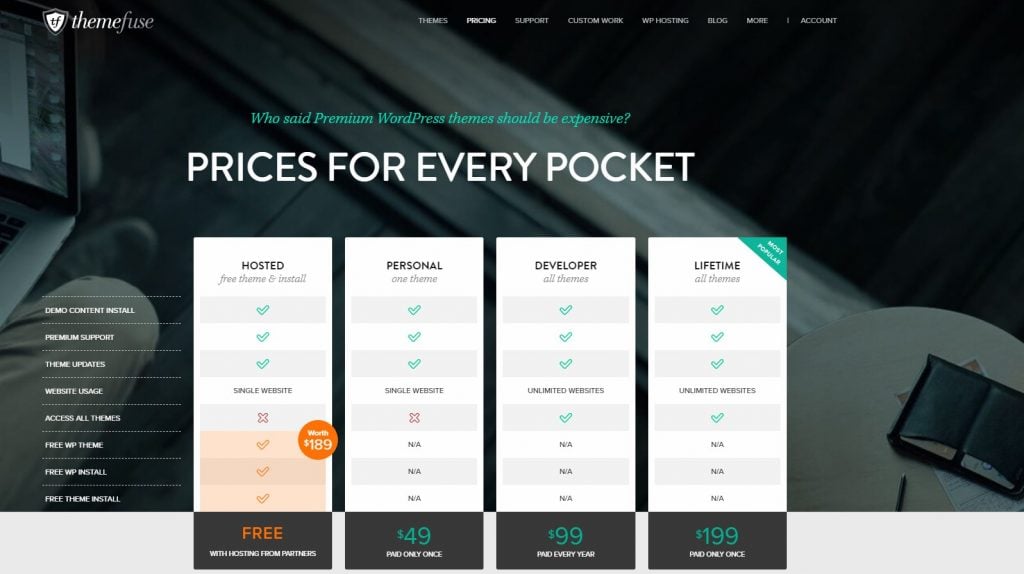 The Hosted plan is a free plan users get from ThemeFuse when they buy a hosting account from a company's partner. As a result, they can pick any theme and use it for free. In this case, the team of professionals will also install the theme on WordPress.
There is the Personal plan which costs $49. With this option, you pay only once to get support and updates.
Another popular plan is the Developer one. It costs $99 per year and gives unlimited access to all items.
As expected, you can get the Lifetime membership as well. The price is the same as for Elegant Themes – $199. This plan gives you access to all themes and even to those that will be added in the future.
Pros
As any WooCommerce subscription service, ThemeFuse has its pros and cons. Below you can see the main advantages:
You get updates automatically
There's a well-qualified support team
The themes are SEO-friendly and fast
Your pack contains the Core, which is a best-selling WP theme
Cons
However, there are also some disadvantages. And some of them are quite disturbing, like the ones below:
Though there are money-back guarantees, WordPress users claim they did not receive cashback.
The ThemeFuse website is not visitor-friendly. The search bar doesn't work properly.
Crocoblock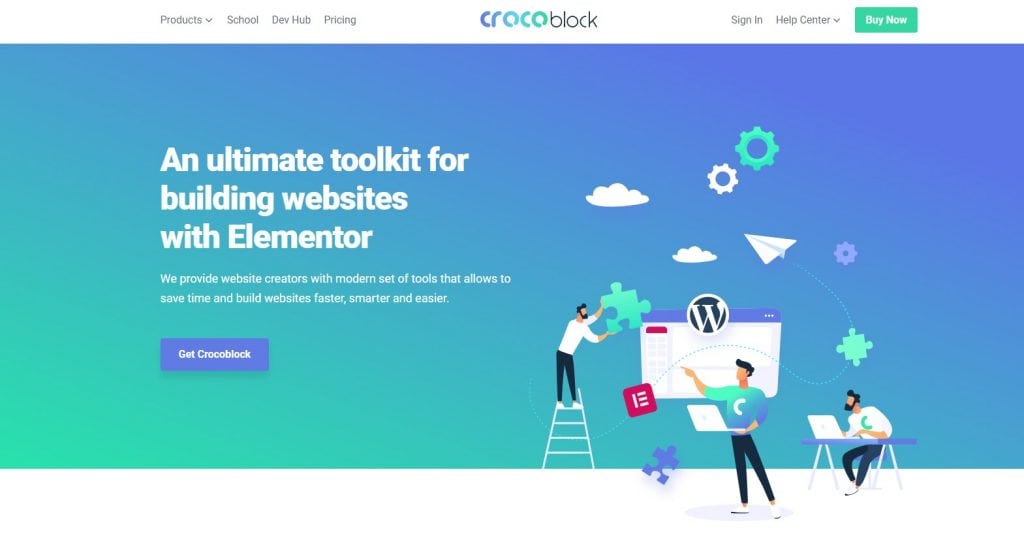 When it comes to top WordPress memberships, it is almost impossible to avoid Crocoblock. To put it briefly, Crocoblock is an all-in-one solution for those who prefer working with Elementor. There is no secret that this WP content editor remains popular, which results in the appearance of various Elementor-oriented products. One of them is Crocoblock.
Membership Features
The Crocoblock package contains multiple add-ons and 1 top-notch theme, called Kava. This is a multifunctional product that fits many business needs. You can check its demo on the official Crocoblock website linked above. Kava is responsive and easy to use. Non-techies and first-time users can launch any kind of website with this theme, including the following formats:
business website
online shop
blog
news portal
food-related site
personal page
online magazine, etc
Crocoblock is also a proven WooCommerce subscription service you can use to build a shop. Its membership includes Kava theme, which has everything you need to manage a professional web store. Being Elementor-based, the theme can be used by people of any skill level. No special skills or experience are required. Just use the newest drag-n-drop technology to style your website.
By the way, by purchasing the Crocoblock membership, you don't have to work with Kava only. You can choose any third-party theme that goes with WordPress. And what about money?
Pricing
Depending on the website type you are about to start, there are 4 different plans. 3 of them are yearly, and the last one is a lifetime.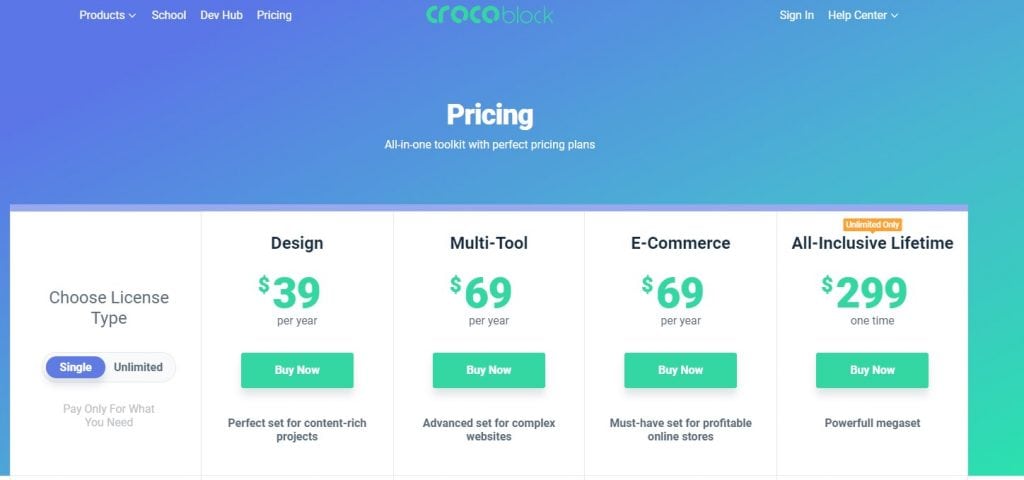 Firstly, there is the Design plan, which costs $39 per year. This membership option provides you with all the essentials. These are the must-have tools one needs to set up a simple online project, like a landing page or gallery. Besides, you get access to 8 outstanding WP plugins.
Secondly, there is the eCommerce plan, which costs $69 per year. This is the advanced set for complex websites, like business sites or online shops. Within this plan users receive 12 premium plugins and other sales-related items.
Thirdly, there is the Multi-Tool plan, which also costs $69/year. By choosing this option, you get all the components available with the two previous plans and even more.
Fourthly, there is the long-awaited All-Inclusive Lifetime plan. Needless to say, with this membership option, you get access to every single product from the Crocoblock creators. And you pay only once.
Pros
Among the advantages of using Crocoblock, I should highlight the following:
numerous Elementor-oriented plugins
1 theme with endless layouts
money-back guarantee
flexible plans
special discounts for designers, students, and teachers
many free tools, widgets, and templates
Cons
Are there any downsides to using Crocoblock? Indeed, there are: it has only weekly support available. It is not the best option for beginners because, in this case, assistance should be available anytime. Also, some users have performance issues with third-party plugins. You should check the requirements carefully before uploading any of them.
Themify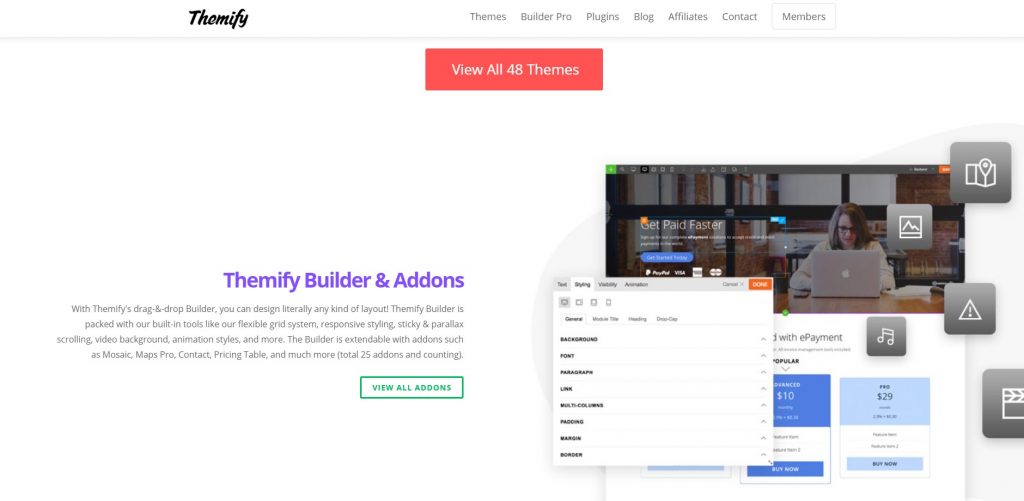 Do you want to check out more WordPress site maintenance services before the final decision-making? Let's pay attention to Themify – a popular WordPress membership. Since 2010, the resource served almost 95.000 customers. People purchase premium WordPress themes and plugins on Themify to start their sites.
So, what do you get with Themify and how much does it cost? The service provides users with lifetime access to all the products available on the website. They also offer a month-long money-back guarantee, but that's not the most interesting part. The Themify membership is widely known thanks to their default page builder.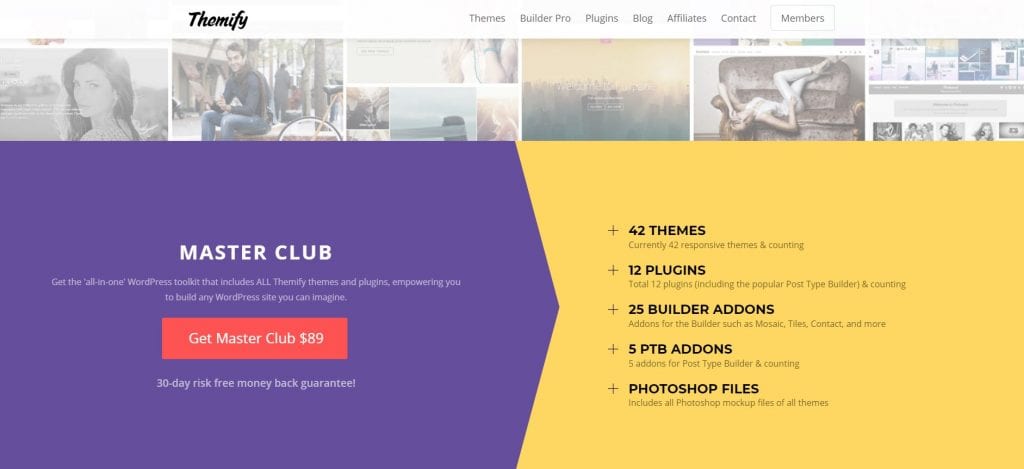 On average, by purchasing the Themify membership you get access to the following products:
40+ themes with groundbreaking designs
25 add-ons for the builder
12 premium plugins
5 Post Type Builder addons
Pricing
Although Themify calls themselves a lifetime membership provider, you still have several options to choose from:
The Single Themes option will cost you $59 a year. As the name of the plan suggests, it allows users to buy one theme. Plus, you will also get free updates and customer support for a year.
The Master Club option will cost you $89 a year. It gives you access to tons of themes, plugins, and future updates. You get 1-year-long support too.
You can get the Lifetime Club option for $249.
Pros
To sum everything up, these are the main advantages of choosing the Themify membership:
Themify builder and its customization
unlimited theme usage
SEO-friendly designs
free plugins
regular updates
easy installation
WooCommerce, Yoast, and Jetpack integration
Cons
According to the current WP users, there are 3 main disadvantages of using the subscription:
there is no intuitive interface which makes things difficult for a beginner
there is no default builder for headers and footers
the support is not the fastest one
MyThemeshop
Finally, it's time to review another candidate! Some users put MyThemeshop in the best WordPress theme subscription list, so let's see what it is all about. To begin with, MyThemeshop is a subscription service with several membership options. On average, the gallery contains 120 themes designed for specific niches. With their help, you can launch a creative online project, such as:
blog
business card website
personal page
portfolio
online store
All the themes come with Search Engine Optimization. They also have responsive design and many other must-have features. Here are the main things you get by purchasing the MyThemeshop subscription:
lightning-fast theme speed
lightweight, responsive design
23 free products
essential plugins
lifetime updates
unlimited domain usage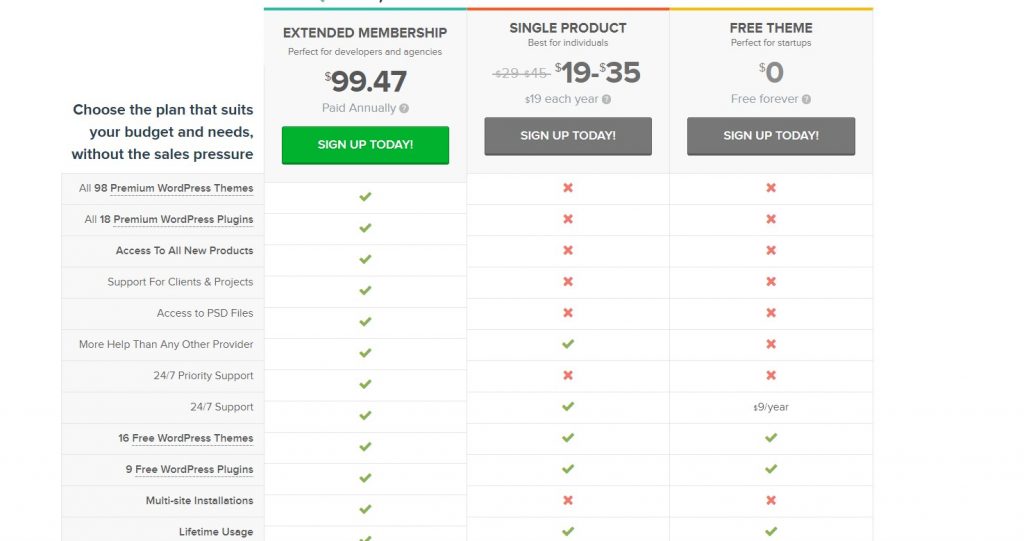 Pricing
Back to payments, (which, by the way, are secure here) you have 3 options:
The first one is the perfect solution for all beginners and non-techies. You get a free-to-download theme and must-have plugins. Plus, there will be 24/7 technical support.
The second option allows you a single product purchase. It costs from $19 to $35 per year, depending on your item's price. This option is helpful for site owners.
In case you want to get an extended MyThemeshop membership, it will cost $8 per month.
Main advantages of choosing MyThemeshop subscription
120 themes
23 plugins
multisite installation
customer-oriented support with 6 sections
unique theme designs
When it comes to downsides:
some product settings are limited
you need a monthly subscription to get premium plugins
These were all the top WordPress memberships I wanted to share with you. Without a doubt, the modern market has a lot of superior products to choose from. However, I still have some resources to share with you, so stay tuned!
WordPress Website Maintenance Packages and Site Maintenance Services
As promised, let's continue with another vital topic. Today, website maintenance packages are what many beginners are looking for. People keep an eye on WordPress maintenance to secure their online projects. It's no secret that WP focuses on security and provides regular updates to lower the risks. Still, no one is immune to hacking. Are you going to wait for bad things to happen to your site?
To help you protect your website, I'm about to share with you the 5 top-rated WordPress site maintenance services. Before we get started, these are the features a regular WP maintenance service includes:
CMS and plugins update
daily backups
malware and security scans
performance monitoring
keyword monitoring
proactive protection, etc
WordPress Website Maintenance Services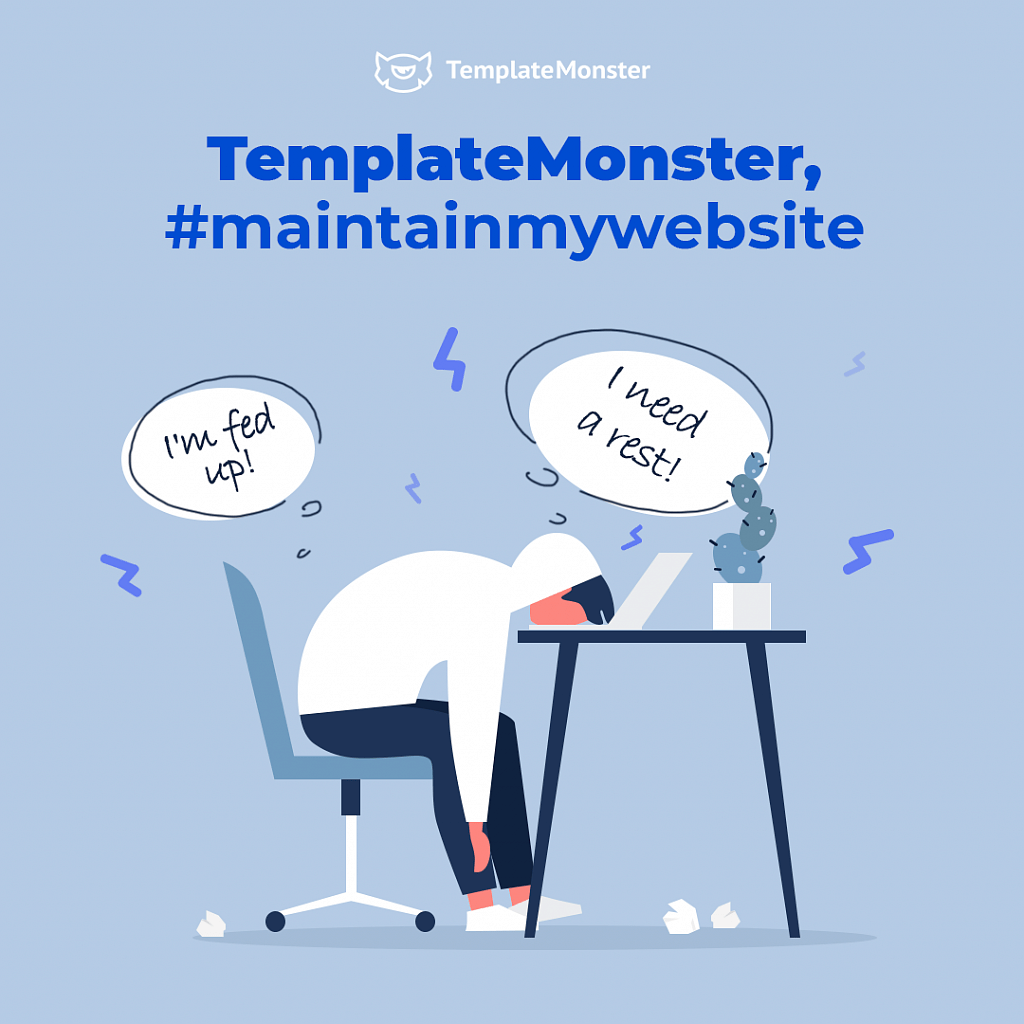 In 2019, many famous web developers offer their WordPress site maintenance services to customers. TemplateMonster WordPress Site Maintenance Services Package offers a user-friendly and fast support system with immediate updates. Their list of services includes:
uptime monitoring
theme updates
CMS updates
plugin updates
database optimization, and more
The support team is also available 24/7. What's more, you will get activity reports every month and regular content update. Another pleasant bonus is that all users get a hosting account from InMotion.
How much does the service cost?
You can choose from 2 options:
The Essential plan will cost you from $29 to $39 per month. This option includes database optimization, updates, and other must-haves, like support.
The Premium plan will cost you $69/month. It includes more features, like SEO, website speed optimization, website transfer, etc.
Among the main pluses of this WP website maintenance service, I should name:
affordable prices
rich options
free services
discounts
When it comes to disadvantages, there is no cloud backup yet.
FixMySite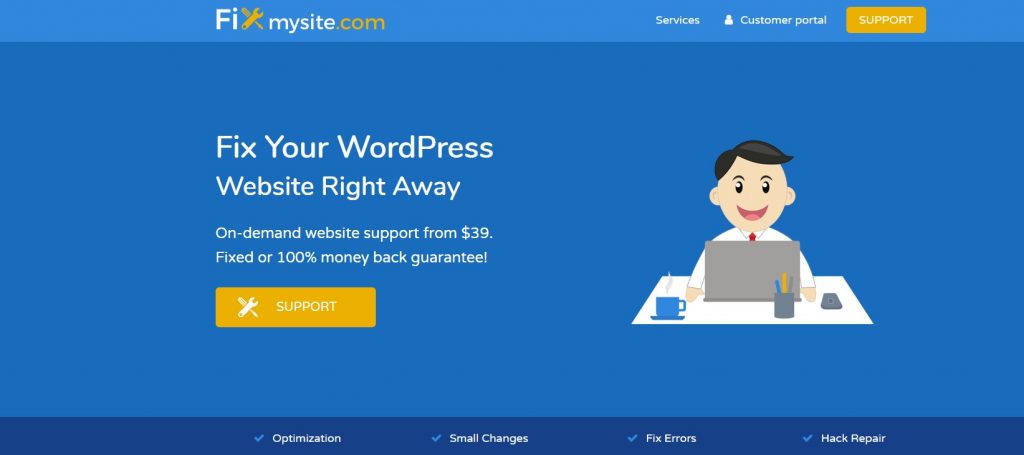 Another resource which provides an extensive list of WordPress site maintenance services is FixMySite. The creators made FixMySite for small business and mostly focus on their needs. And what do you get?
Here are the main features:
quality support
site protection
30-day-long refunds
WP checklists
The prices at FixMySite are pretty flexible. These are the services they offer:
$39 for small tasks
$49 for repair
$59 for migration
$89 for speed optimization
$99 for malware removal
In a word, FixMySite is the place for you in case you need one-time protection.
WP Buffs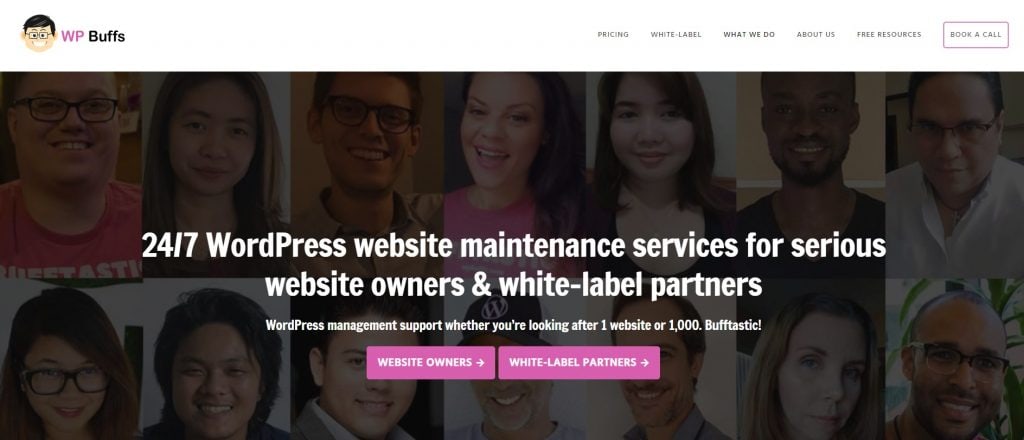 The next company providing WordPress site maintenance services is WP Buffs. If you are the one who takes care of website loading speed, backups, updates, and security… Well, in this case, don't miss WP Buffs. To make a long story short, the creators made this resource to monitor and protect your website.
Among the main features of WP Buffs:
weekly updates
transfer reports
speed optimization
24/7 site monitoring
WP emergency services
How much does it cost to protect your online project with WP Buffs? Below you can check out the available plans:
You can pay $67/month (or $56/month yearly) to get the Maintain plan. This is a basic plan which does not have such options as unlimited updates or website optimization.
By spending $147 per month, (or $123/month if you take a yearly plan) you get the Protect plan. This option includes everything except malware removal and premium support.
To get the Perform plan, you have to pay $197per month. Its price lowers to $164/month if you use the plan for a year. This option includes all available services.
Also, there is the Custom plan that costs $347 per month. The option includes not only all available services but themes and plugins as well.
Finally, there is the Custom plan Pro for complicated online projects. It costs $447 per month.
What are the main advantages of using the WP Buffs service? Their customers claim it is great for beginners. However, people also say that the Maintain plan has a poor options list.
WP Site Care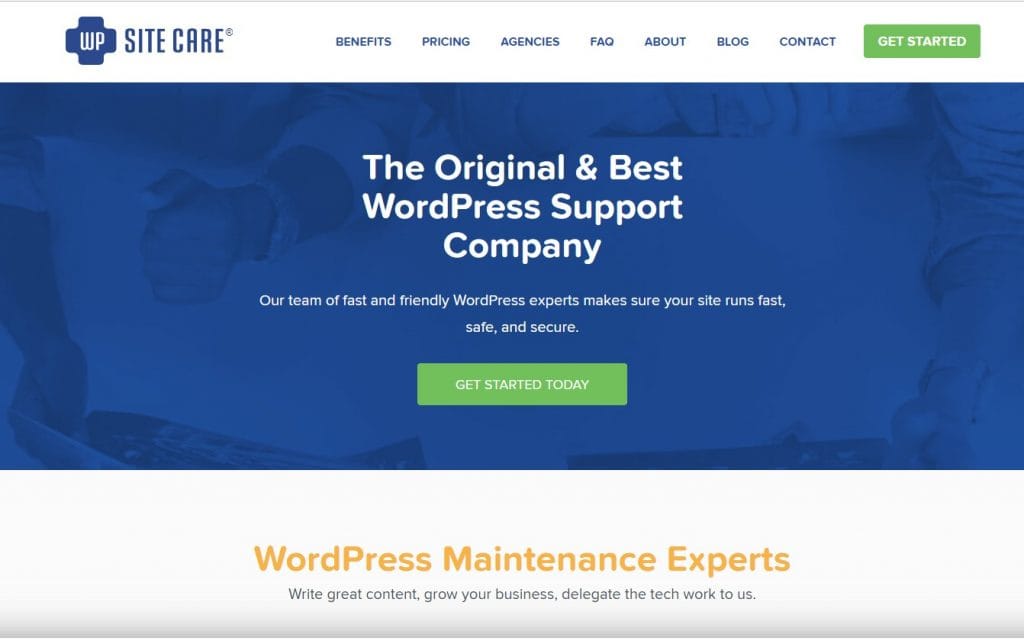 To put it briefly, WP Site Care is the resource made for small businesses and bloggers. The company specializes in on-site optimization. They bring more traffic to customers, make backups, lower security risks, etc. Basically, WP Site Care provides fast solutions to different issues related to site-building. As all the others aforementioned WordPress site maintenance services, WP Site Care has a refund policy.
In case you want to purchase real-time activity tracking or any other option from WP Site Care, you can choose from the following plans:
A regular monthly plan will cost you $99. The pack includes daily updates.
You can also get the Pro plan for $399. It will cost $299/month if you but a year-long plan.
WP Curve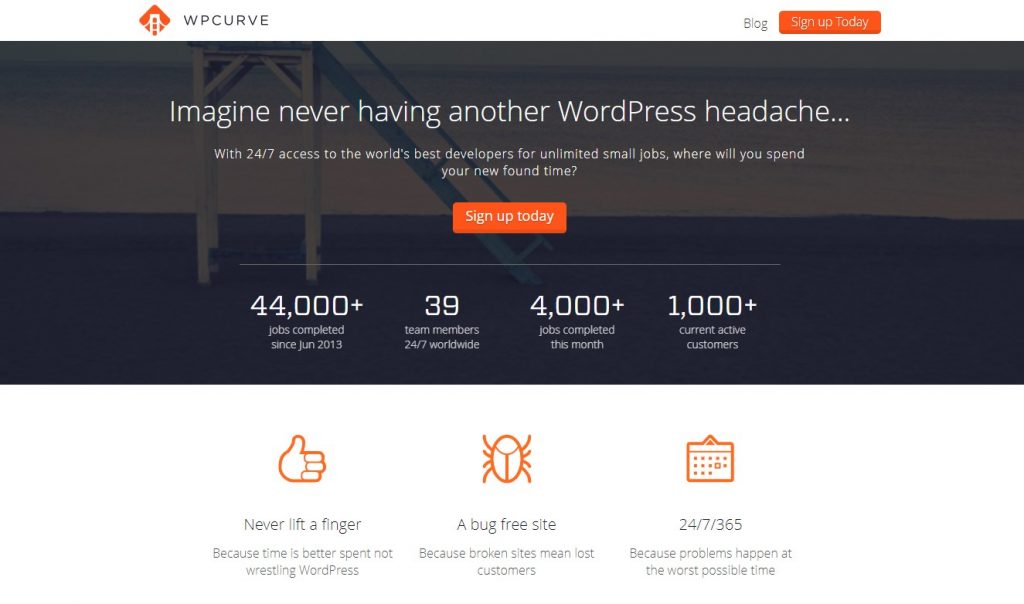 Last but not least, there is WP Curve which assists numerous sites worldwide. The company offers 4 website maintenance packages, including these services:
security settings
updates
search traffic increase
lowering bonus rates
conversions increase
theme customization
bug solving
brand promotion
optimization, etc.
WP Curve works with GoDaddy and provides 30-days-long money-back guarantee. They have high-quality support, which costs $79 per month. These are the plans you can choose from:
The Starter plan will cost you $49 per month.
The Basic plan lasts 3 months and costs $79.
The Deluxe plan lasts 5 months and costs $99.
You can also get the Ultimate 10-month-long plan for $149.
Final Thoughts
These are all the top WordPress memberships I want you to check out. As you can see, the modern market abounds in ways to run a website. WordPress is the most popular CMS in 2019, and the variety of WP-related products is extra rich.
Now you can manage a professional site without touching a single line of code. There are a lot of WordPress site maintenance services you can use. What's even better is that some of them are free, so what are you waiting for?
Author's bio:
Lana Miro falls in love with beautiful web design. She likes to share her experience and explore something interesting in UX&UI design, affiliate marketing, eCommerce trends etc.
Gravatar: lanamiro@templatemonster.com