Smartphones are much more than communication devices, mostly if your interests revolve around photography, graphic design, and social media. For the ones eager to capture the best shots, the camera is one of the most important factors to consider when purchasing a new phone.
Below, you can find our list of 9 great apps that you can use to compress and resize images on Android devices, to free up your storage space.
Why should I compress and resize images on Android?
Nowadays, nearly all smartphones have high-resolution cameras. The pictures taken by these cameras are far from weightless, and this can become a problem when you start to share your images in bulk on various social media platforms.
There you have it: amazing photos on one side and a huge bandwidth and storage consumption, on the other. One simple reason why you should compress and resize images on Android is to save up storage space.
How to resize images on Android devices?
Some Android phones or tablets do not include built-in applications that can be used to compress or resize an image. Most Photo apps that come with Android devices can be used to view files, but there are no options for you to edit the image file. Fortunately, a lot of useful applications for Android devices can be found via the Google Play Store.
The apps available on the store vary depending on your device type and Android version. Some might work for you, while others might not. The standard process of resizing an image is to select one or multiple files, then adjust the resolution you want to resize to.
Our top picks from a great selection of apps to resize images on Android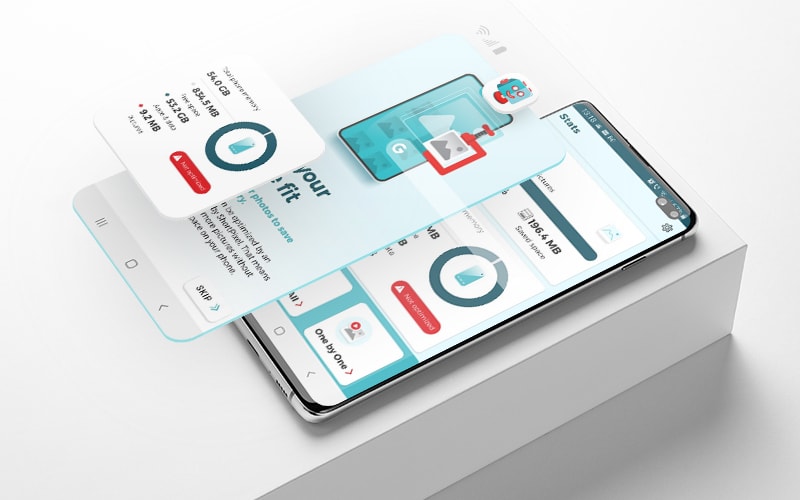 Using advanced algorithms, ShortPixel Image Optimizer optimizes and resizes the images you have on your Android device to consume less disk space. Select Lossy, Glossy or Lossless compression method, adjust the resizing options and other settings, and run a bulk that handles all your images at once, or select which ones you prefer to optimize and resize.
Each image consumes one credit. Sign up for a free account to receive 100 free credits per month.
* Optimize and resize unlimited images with the special offer available via AppSumo Marketplace.
You might wonder why is Pixlr one of the most popular photo editing apps out there, with over 50M installs? Because it has numerous features and offers more than 600 special effects for easy editing.
If you want to do some advanced editing, besides resizing images, with Pixlr you can unleash your creativity and create collages, adjust the contrast and brightness of your photos, create cool photo effects, add text to your images, and many more.
The Photo & Picture Resizer app is swift. Don't take our word for it, just try it yourself! This tool reduces the size of your image and also includes the option to share the final version on social media platforms, such as Facebook and Instagram.
If you're looking for an app that shrinks your pictures without affecting their quality, you should check out this app. Designed to maintain the picture aspect ratio by providing the resolution list based on the camera, this app is one of the best and smartest tools that you can use to resize images on Android devices.
This app allows you to resize images on Android quickly and easily, and you can also specify the output format: inches, centimeters, millimeters, or pixels. The app also includes the options to save, email, print, or share the final image.
As its name already suggests, Photo Compress 2.0 allows you to compress a photo into a smaller-sized version without affecting the quality. Isn't this something we all want? The app allows you to set the compression level to low, medium, or high. Just choose the compression type you'd like to experiment with and press the button to check the difference between the original photo and its lighter version.
The Resize Me app can be customized to quickly adjust the size of your photos with a single click. By using this tool, you can crop, rotate, and set your pictures as wallpaper. Want to add your personal watermark? Then you're in for a treat, as Resize Me enables you to do just that!
Do you want to change the width and height of your photo however you like? Then Image Shrink may be the app you're looking for. While shrinking your images, you can also keep or remove your GPS data, EXIF info, and other data to reduce the file size.
Photo Tools comes with the basic tools you'll actually ever need. Besides the option to resize an image, it includes equally intuitive features such as image compression to reduce the file size, ability to crop and rotate images, image conversion to JPG, PNG, or WebP, and other useful features.
Instasize is a photo editor app for creative people. It includes the ability to resize your photos, and comes with a plethora of other cool and intuitive features. You can easily edit your photos with photo filters, create collages, use various retouching tools, and many more.
To unlock other great tools and options, such as gaining access to a huge library of photo filters, and using specific editing tools to enhance your images, you can subscribe to Instasize Premium.
One more thing
If you have a folder full of pictures and you would like to do a 'bulk' optimization of your images, you can just drag and drop all of them on jpegreducer.com and download the result. jpegreducer is an online image compressor tool powered by ShortPixel.
Author Bio:
Dev Bhatt is the head of digital marketing at OnlyMobiles. He is a tech enthusiast and loves to review and write about gadgets of all sorts – smartphones, tablets, or any electronics, for that matter. He's always the first to check what's new on the market and to share his findings with his readers. Dev's goal is to help people make informed decisions when buying electronic devices. Apart from his love for gadgets, Dev is an avid gamer that lives to travel.
Last updated by Andrei Alba on 04/09/2022