WordPress is more than just a platform for building websites. It's a global community made up of developers, bloggers, and a host of other people invested in making the platform better. With so much activity taking place across the world, it can be hard to keep track of all things WordPress.
Fortunately, there are also plenty of excellent resources dedicated to sharing WordPress news. By subscribing to a combination of daily, weekly, and monthly newsletters from WordPress professionals and enthusiasts, you'll be able to stay in the loop. Plus, you'll also be better positioned to prepare for upcoming developments.
In this post, we've compiled a list of eight of the best newsletters for keeping up with the world of WordPress. You'll learn more about what each one covers, who runs it, and why it's invaluable to WordPress users. Let's get to it!

Every Wednesday, MasterWP sends out a newsletter full of useful tools, apps, and links. Designed for WordPress professionals, this weekly email is meant to provide additional resources for those who make their living working with the platform.
If you're a WordPress developer or designer, it's always helpful to be in the know when it comes to tools that can make your job easier. This particular newsletter is written by Ben Gillbanks from Pro Themes Design and Alex Denning from Ellipsis Marketing, so you can trust that the information you're getting is coming from other experienced and successful WordPress professionals.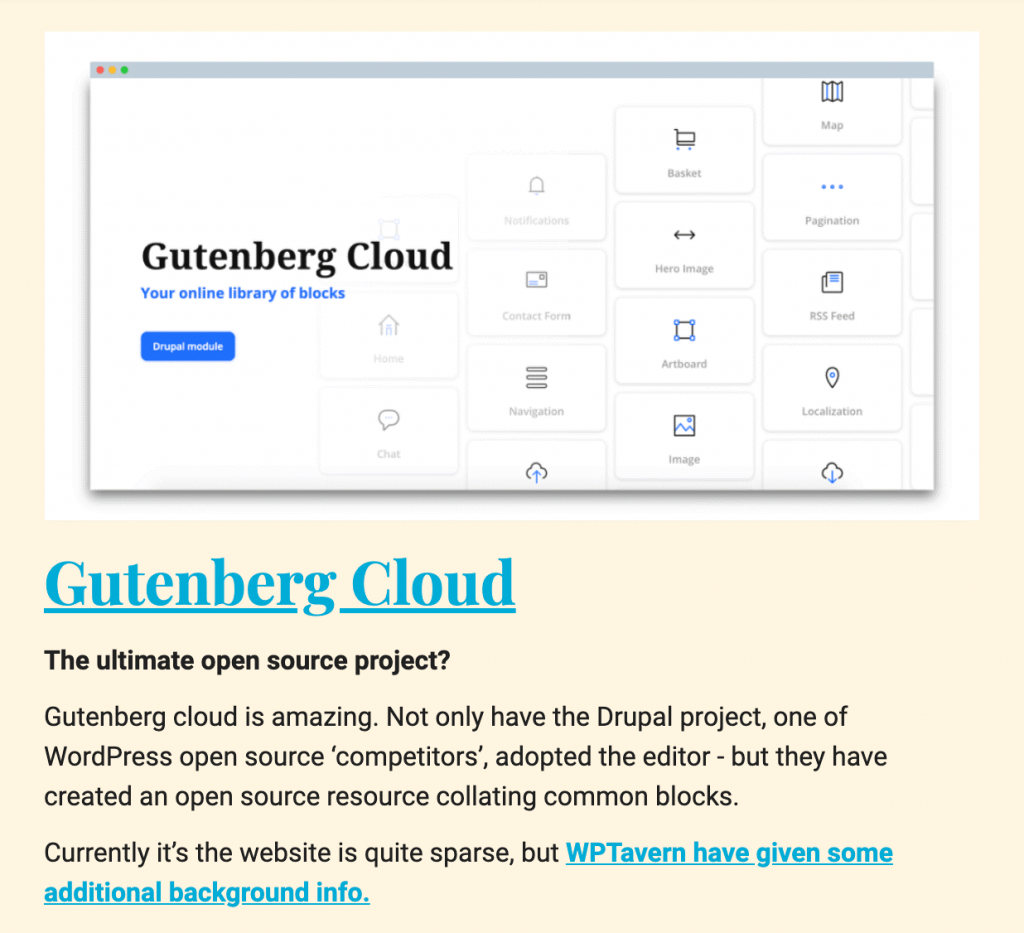 To subscribe, all you have to do is head over to the MasterWP website. The subscription form is quick and easy to complete, and you can keep track of how long you'll have to wait for your first issue by checking out the handy countdown timer.

WP Beginner's WordPress Newsletter will keep you up to date with one of the platform's most popular resources. Founded in 2009, WP Beginner is a site full of resources for those new to the platform (although it can be useful for experienced WordPress users, too). Its blog is packed with helpful guides on topics including hosting, blogging, e-Commerce, email marketing, and so on.
Once a week, subscribers to this site's newsletter receive exclusive editorial content featuring helpful tips and tricks, as well as news related to WP Beginner specifically. You can also sign up for daily emails if you want more frequent updates.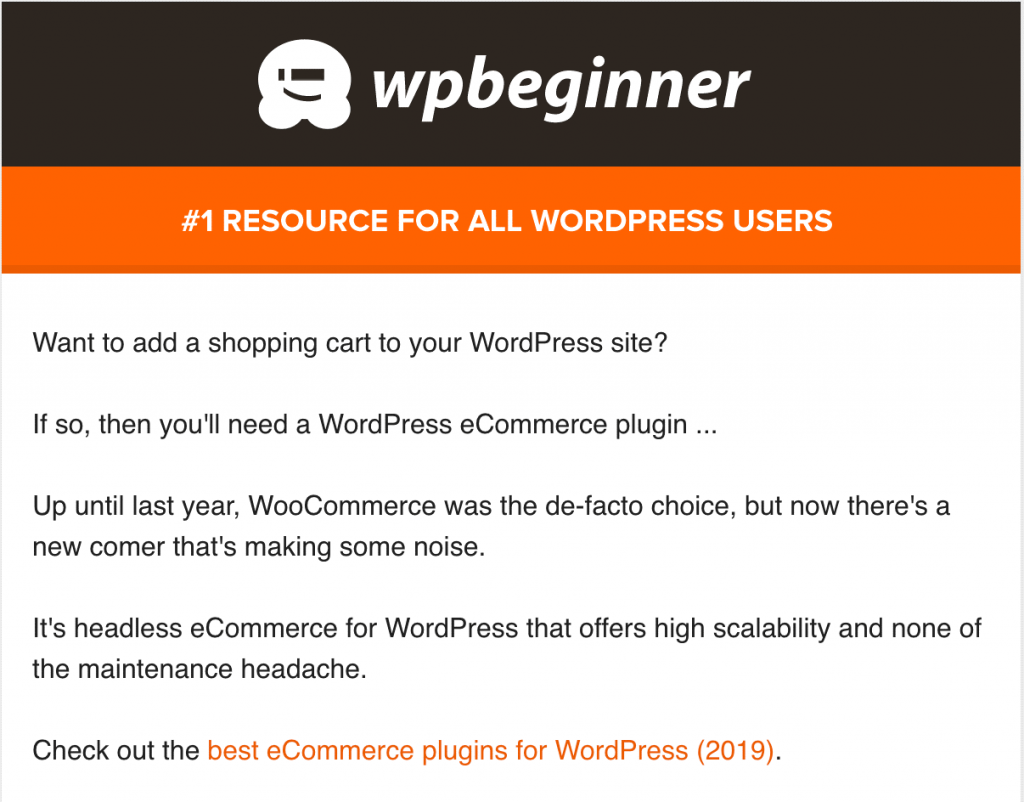 You can sign up for the WordPress Newsletter on the WP Beginner site. In the subscription form, be sure to take advantage of the option to specify the type of content you want to receive. That way, you can prevent your inbox from becoming too cluttered.

If you want to keep up with the latest WordPress-related news, but don't want to spend a lot of time searching for it, The WordCandy Weekly can help. As a subscriber, you'll receive concise weekly reports summarizing recent activity in the WordPress community, including security patches, updates, and more.
WordCandy is a content agency that creates blog posts and other web content for many WordPress businesses. Working alongside some of the most prominent theme and plugin developers, hosting providers, and other key WordPress community members, helps keep this newsletter's creators on top of what's going on with the platform.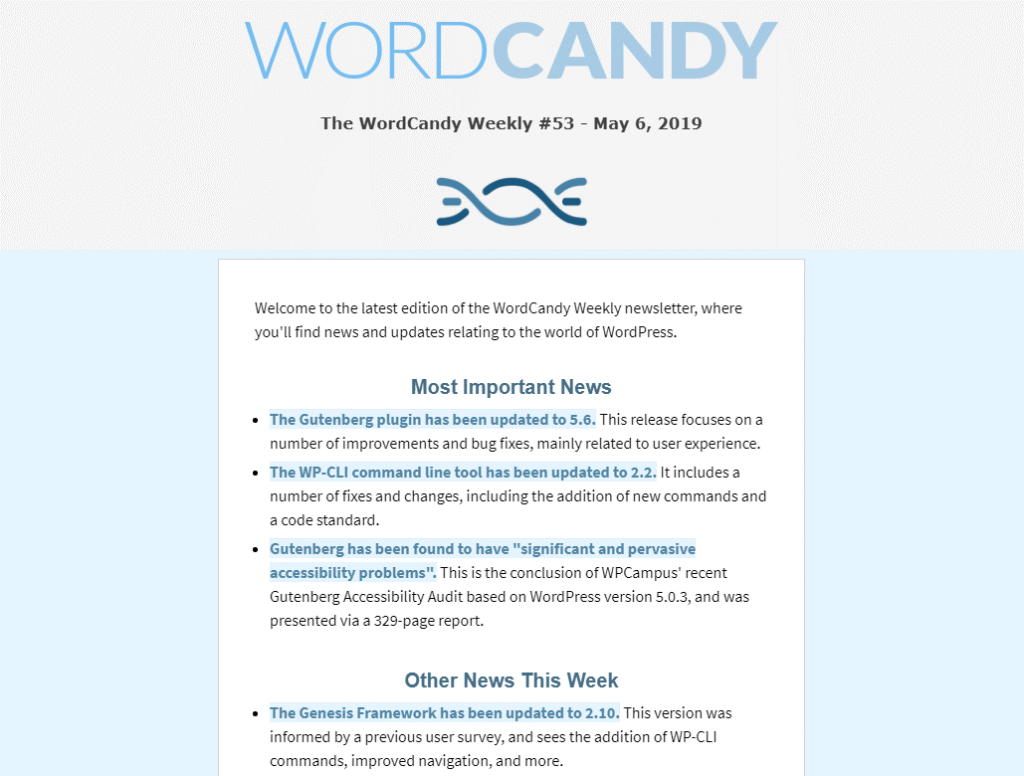 You can subscribe on the WordCandy website, and expect new issues in your inbox every Monday. Plus, you can even see the latest issue of the newsletter right on the site, so you know exactly what type of content you'll be getting.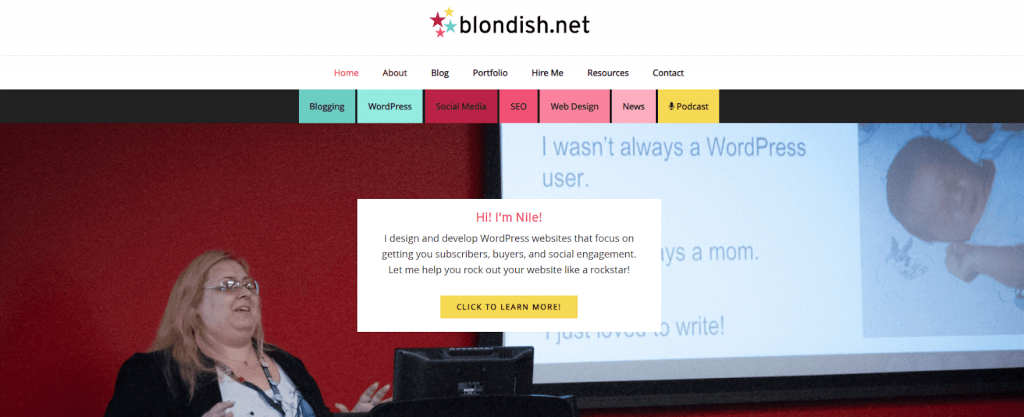 Nile Flores of Blondish.net is a WordPress developer and designer. In addition to checking out her informative podcast and blog, you can subscribe to her newsletter for weekly emails featuring tips and tricks related to both blogging and WordPress.
Large-scale resources such as WP Beginner are invaluable to many WordPress users. However, seeking out a personal take from a professional in the community can provide unique insights that you won't find elsewhere. Experienced developers and bloggers such as Flores are a prime example.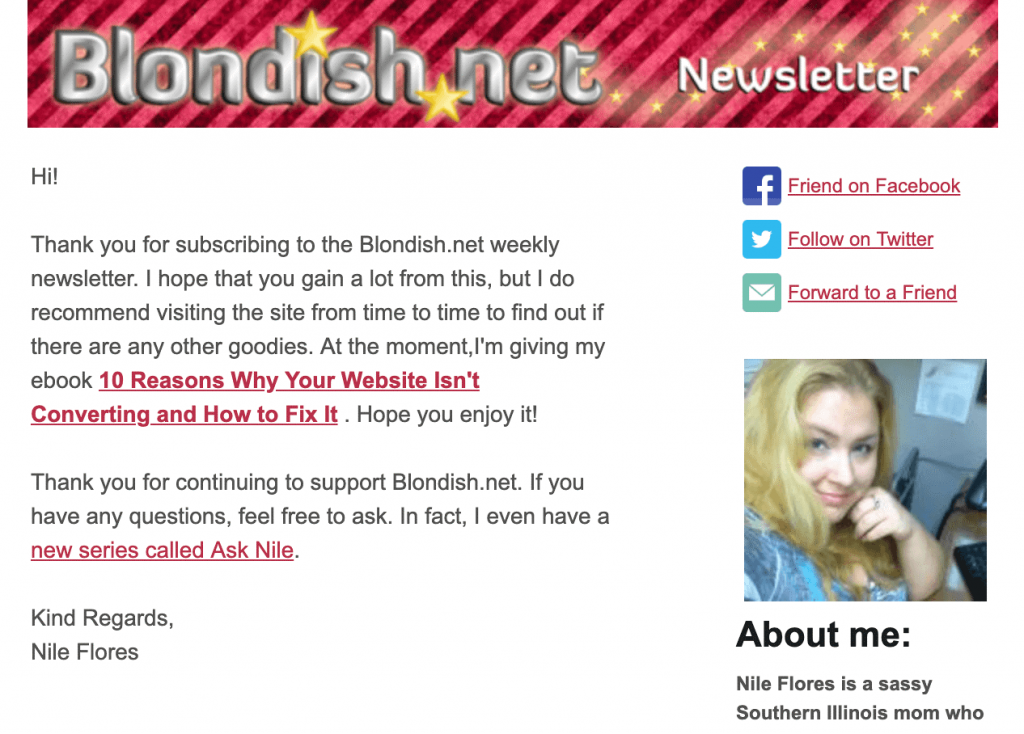 You can find Flores' blog, podcast, and more on Blondish.net. Her newsletter subscription form is at the bottom of every page, so you can easily find it and get connected. You can also access her free ebook, 10 Reasons Why Your Website Isn't Converting, and How to Fix It, which is a great supplementary resource.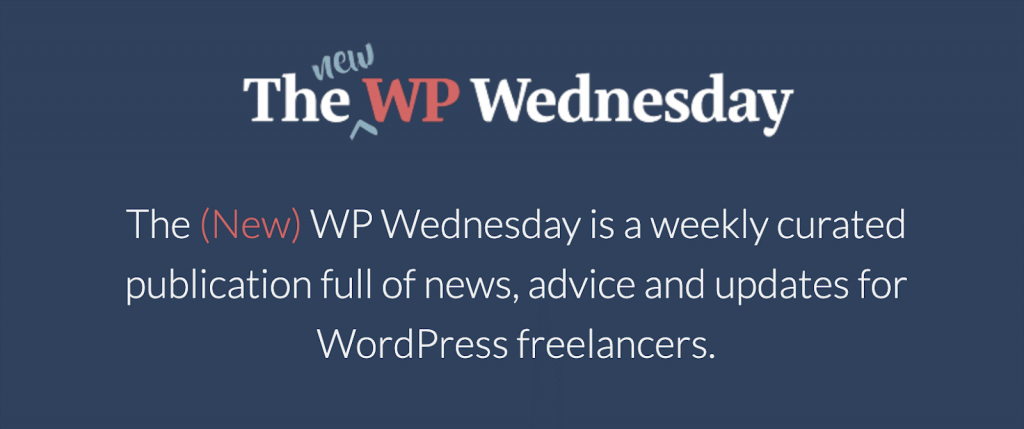 The (New) WP Wednesday focuses on the needs of WordPress freelancers. While there are many shared concerns among all types of WordPress professionals, freelancers have a specific set of needs and interests. Therefore, this newsletter includes information about general WordPress happenings, as well as advice on how to manage your business.
Backing up The (New) WP Wednesday is the Agency Mavericks community. WP Elevation is made up of experienced WordPress consultants, and it provides resources and courses to help WordPress professionals take their businesses to the next level. It can help you better your technical knowledge, or work on skills such as predicting and managing income.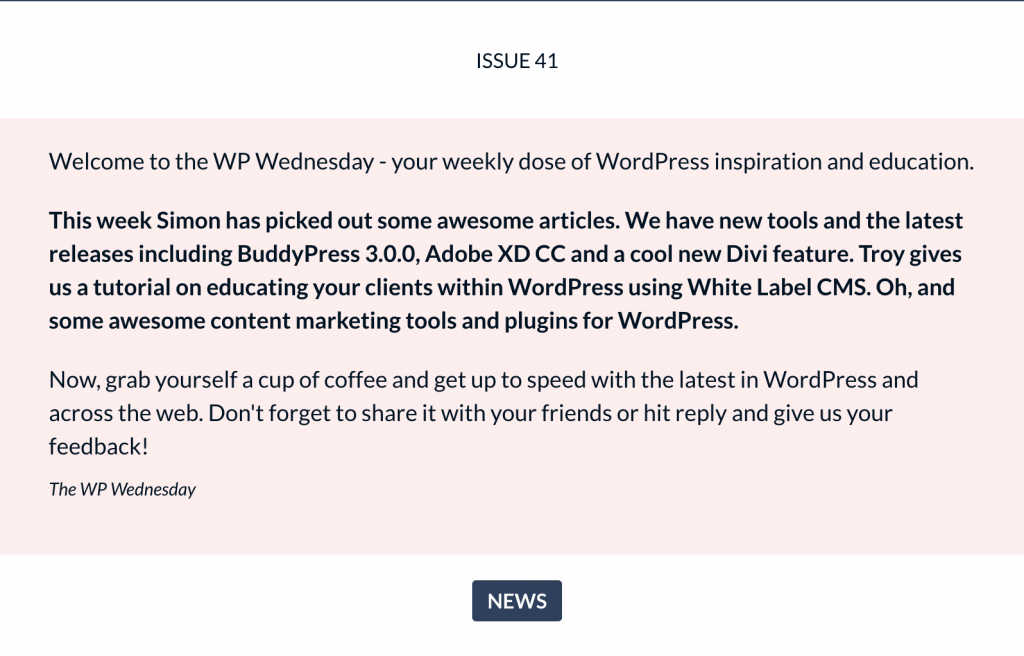 This newsletter has its own site, where you can subscribe to receive weekly curated emails. You can also check out the WP Elevation blog and podcast for even more resources.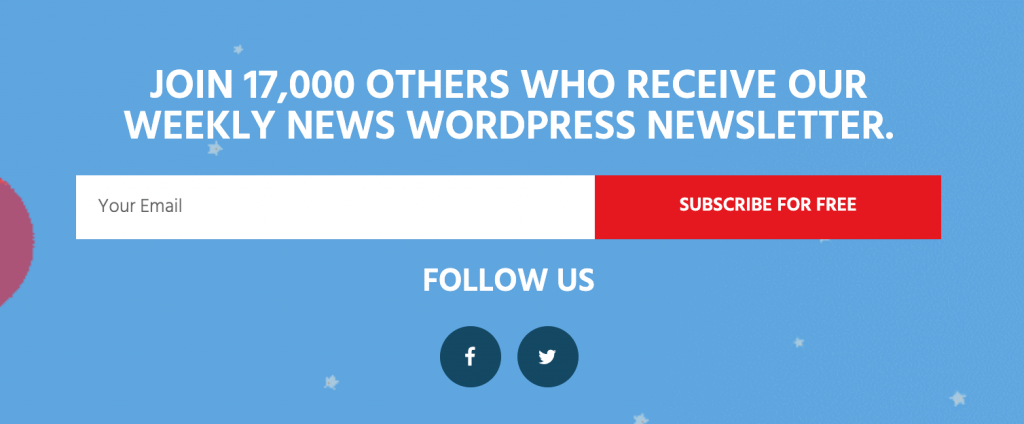 WPLift is an excellent source of information on all the latest details on free WordPress themes and plugins. Its newsletter compiles the most important WordPress-related news from the past week, along with tutorials, resources, and the site's latest blog posts.
WPLift owner Daan Tol is an experienced online marketer, and this resource has long been a staple of the WordPres blog community (as you can see from its 17,000-strong subscriber list). Each newsletter includes some insights from Tol, so you'll get more than just a list of links in your inbox each week.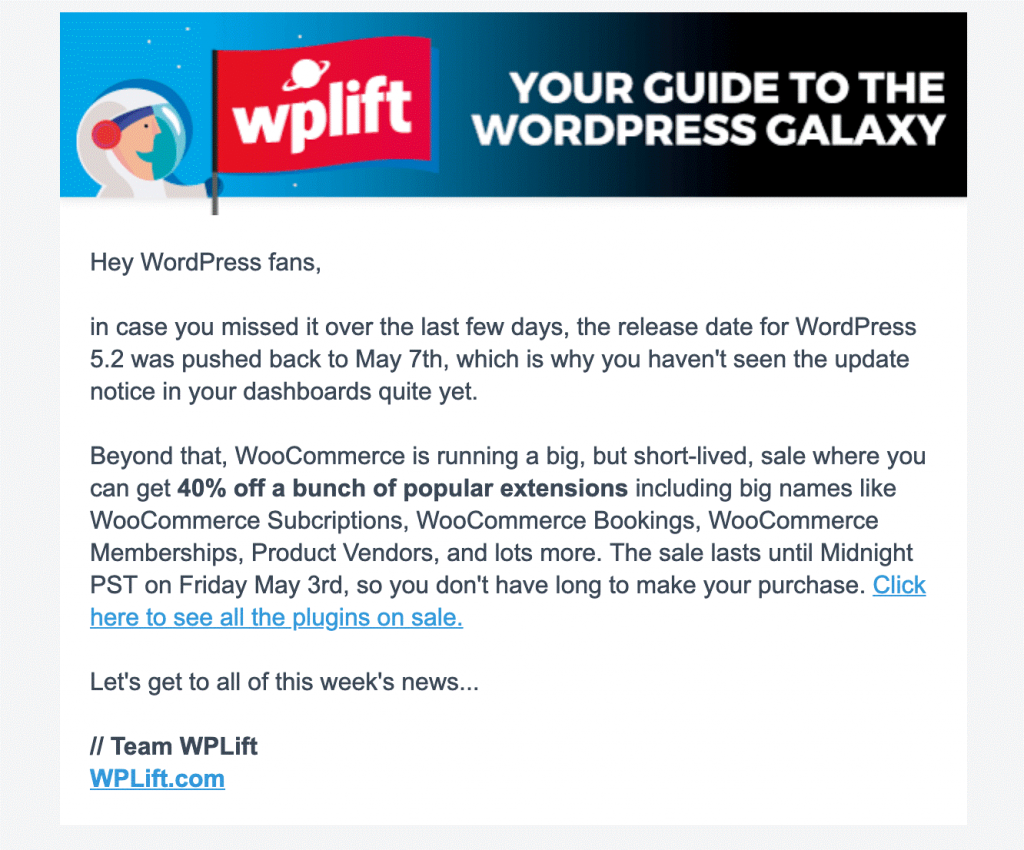 You can subscribe to this newsletter on the WPLift website. While you're there, you may want to consider checking out its other helpful reviews and tutorials as well.

With so many sources of WordPress news out there, it can be hard to keep up with every blog and podcast. Tom McFarlin recognizes that, which is why he started a monthly newsletter to catch readers up on his most popular recent posts, as well as his current deals and other offers.
McFarlin is not only an avid blogger and podcaster, but also an experienced developer for WebDevStudios who also runs his own business (Pressware). In addition to spreading information about WordPress on his blog and podcast, he's spoken at WordCamps and meetups within the community.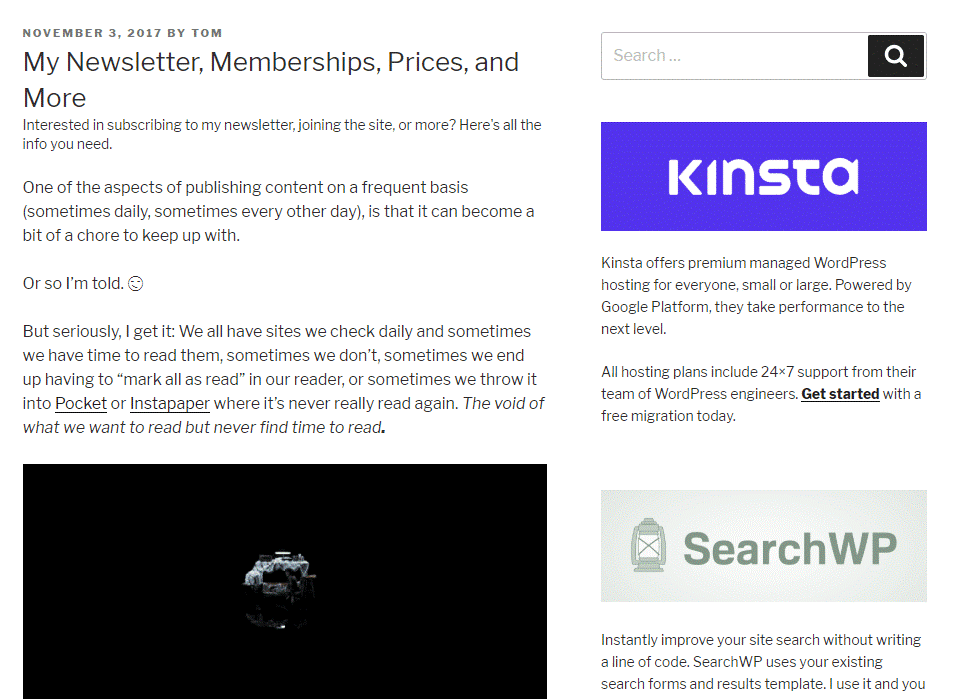 You can check out McFarlin's blog and podcast on his website, and subscribe to his newsletter there as well. Just keep in mind that this is a monthly newsletter, so don't expect a new issue in your inbox right away.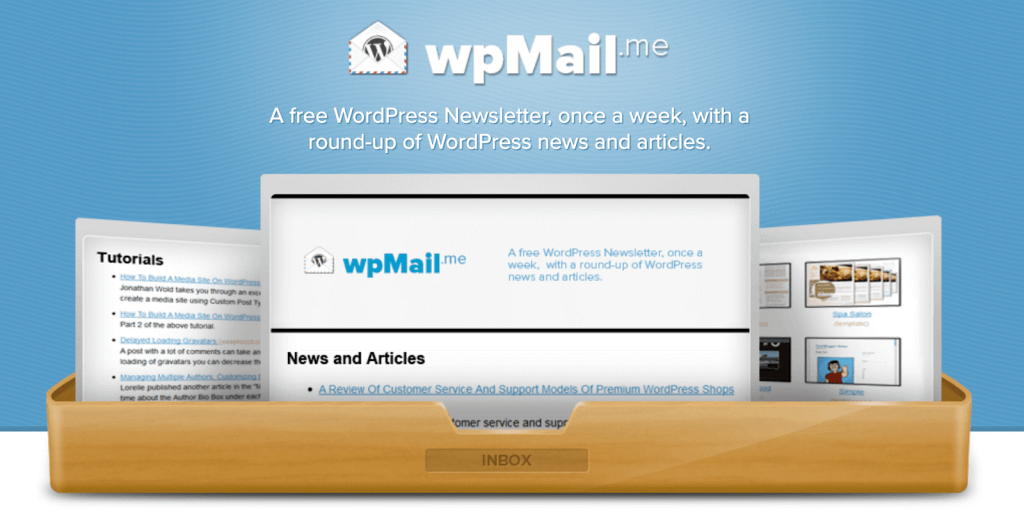 You can't read every WordPress-related blog post and article that goes live across the web – there are just too many of them. That's why newsletters such as wpMail.me are so handy. Once a week, you can expect a roundup of the most recent and relevant articles for you to peruse and prioritize.
This newsletter is published by Cozmoslabs, a business focused on WordPress plugin development, maintenance, and support. It was founded by Cozmoslabs developer Cristian Antohe, who has more than seven years of experience in the industry.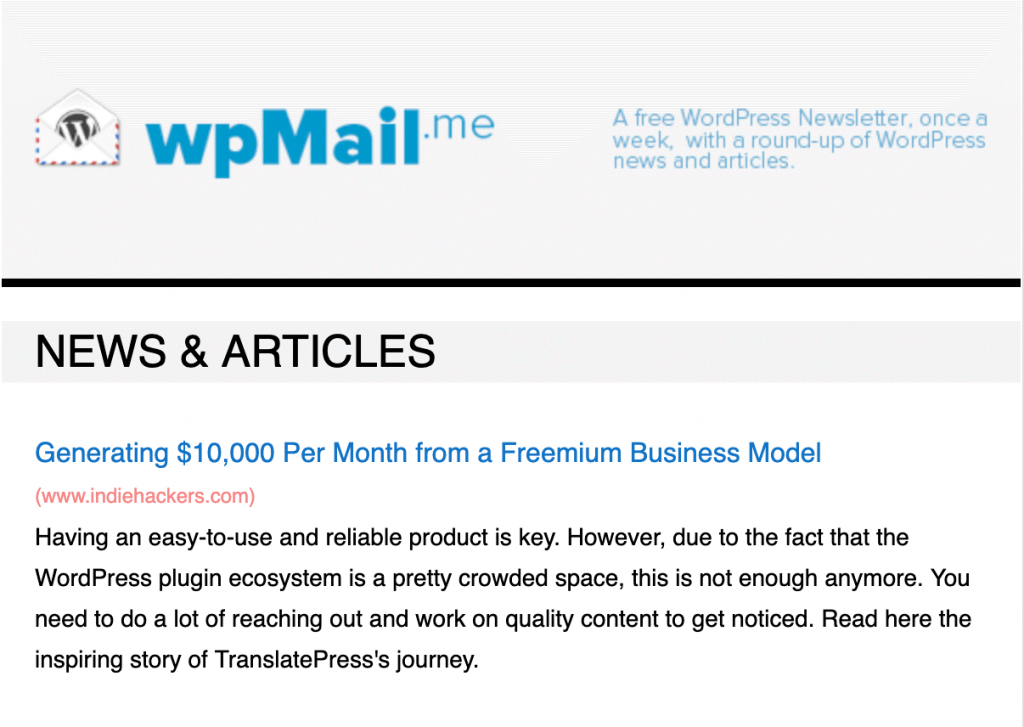 wpMail.me has its own dedicated site, where you can subscribe to receive weekly WordPress news roundups. In addition to wpMail.me, Cozmoslabs has another newsletter dedicated to sharing information about new plugins, discounts, and its own recent activities.
Conclusion
It's impossible to keep track of every little thing that goes on in the WordPress community. However, subscribing to some of the top newsletters dedicated to the platform can help you stay informed and get involved.
Newsletters from WordPress professionals such as Nile Flores and Tom McFarlin provide unique insights into what's going on with the platform. When you combine them with comprehensive digests from The WordCandy Weekly and The (New) WP Wednesday, you'll get a well-balanced view of what's going on in the world of WordPress.
Want to know more about WordPress newsletters? Let's discuss them in the comments section below!
Author's bio: Will Morris is a staff writer at WordCandy.co. When he's not writing about WordPress, he likes to gig his stand-up comedy routine on the local circuit.
Image 1 from pixabay.com
Image 2 from masterwp.co.
Image 3 from gutenbergcloud.org
Image 4 from www.wpbeginner.com
Image 5 from www.wpbeginner.com
Image 6 from wordcandy.co
Image 7 from wordcandy.co
Image 8 from www.blondish.net
Image 9 from www.blondish.net
Image 10 from pages.thewpwednesday.com
Image 11 from pages.thewpwednesday.com
Image 12 from wplift.com
Image 13 from wplift.com
Image 14 from tommcfarlin.com
Image 15 from tommcfarlin.com/newsletter-memberships-more/
Image 16 from wpmail.me
Image 17 from wpmail.me