We migrated ShortPixel blog to WebHostFace in march, and our experience with these guys was very good so far. We liked them, they liked us, so we became WebHostFace partners. We also decided to tell you a few things about WebHostFace.
Before reading about plans, features and some surprising goodies, you could go to their Face Us page and meet this young team of friendly professionals.
WebHostFace plans and Features
WebHostFace provides a large variety of hosting plans, so you can choose one according to your needs.
Shared Plans
The most basic hosting plans, as you know, are the shared hosting plans. They are designed for the small websites with a few visitors per month. You don't need to pay too much, but your online presence is secured. Here's what WebHostFace has for this user case. Note that they run a promotional campaign right now, offering shared hosting plans for reduces prices.
We believe that $1.99/month for 30 GB WebSpace is a steal.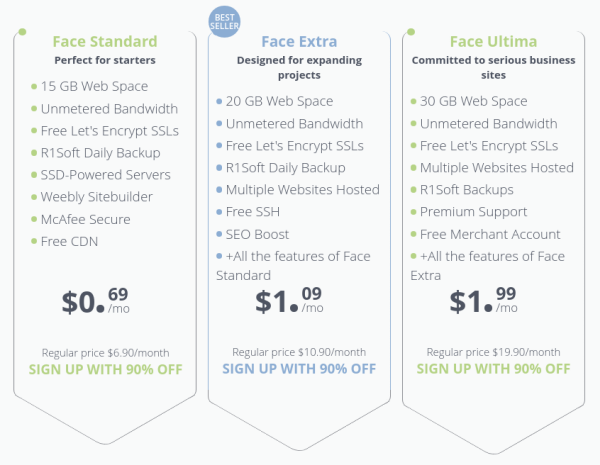 Virtual Private Server (VPS) hosting plans
Here we are talking about another level of web traffic and security. Dedicated IP, more hosting space and processor power, dedicated Ram, increased privacy – if you need all of these and more, go and check the detailed description of the WebHostFace's VPS plans.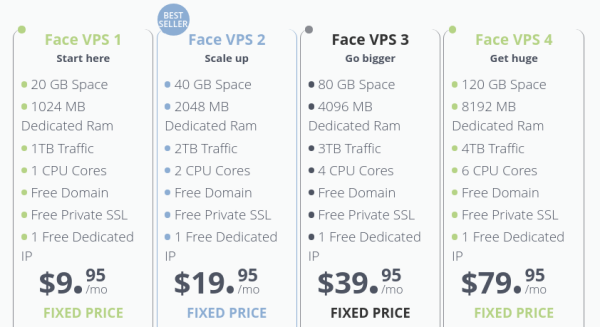 If VPS hosting plans are not enough for you, then you qualify for the dedicated WebHostFace servers offer.
WordPress hosting plans
Our blog is built on WordPress CMS, we have a popular image compression plugin for WordPress, and most of our users are from the WordPress community, therefore the question: What these guys have in their bags for WordPress? Does WebHostFace have dedicated plans for WordPress installations? Of course, they have.
WP shared accounts have identical prices as the regular share hosting plans, so you could check them above. But WebHostFace has also managed WordPress hosting plans: WP Artist and WP Master.
WP Artist is recommended when you expect ~150.000 visits per month and WP Master for twice as many visits. Both plans include Free CDN & SSLs with HTTP/2, discounts on premium themes and plugins, performance and speed checks, and other $396 value added extras.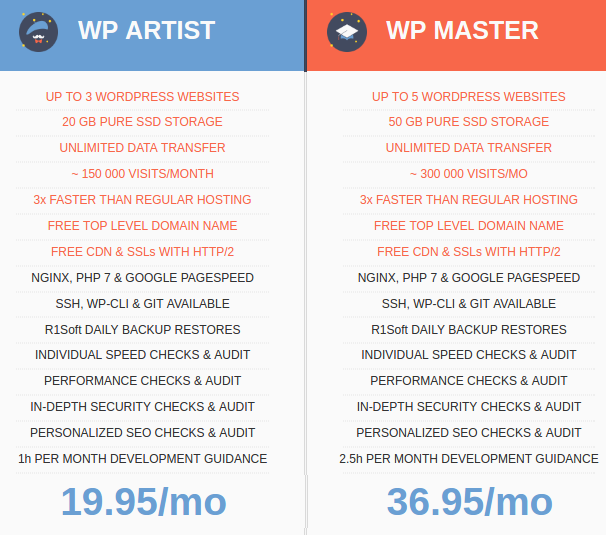 An amazing knowledge platform
At the beginning of this article, we told you about some surprising goodies. We discovered the WebHostFace has not only some interesting features and plans, but it also offers an amazing knowledge platform where you can learn about a lot of things: SEO, SSH, SSL, Website Transfer, cPanel, domain management and so on. But that is not all, they have many video tutorials about hosting. We believe that this is a huge plus for WebHostFace, and it shows that they care about their users.
Doing business with WebHostFace
If you want to resell or package hosting services together with what service you have to offer, here are the reseller plans from WebHostFace.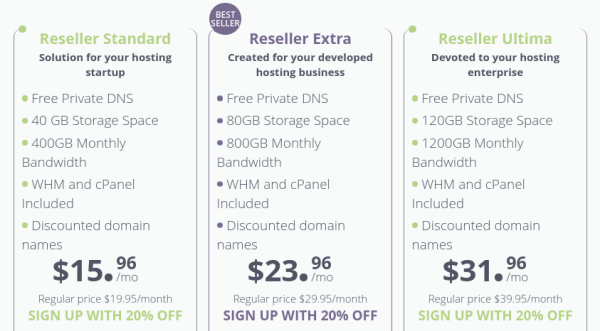 Support & Uptime & Security

Uptime, Security, and Support – the triad on which the customer trust is built. You need to know that your website is online when you don't look, that it is protected from the bad guys, and that you can talk with someone when you encounter any issues.
As you could see on their website, the WebHostFace assures you that your website will be guarded with multiple lines of defense.
WebHostFace also promises 99.9% uptime, which is more than decent. So far, we didn't experience downtimes, and our ShortPixel blog was always online and well.
WebHostFace has more ways to support its users: you can either submit a ticket, send an email, complete an online form, contact them by phone or chat. So, there are plenty of options to get answers to your questions. Talk with them and you will see how friendly they are.
When we needed some caching settings to be changed we contacted the WebHostFace support by email. Our request was solved fast and we hadn't to touch the code or the admin panel. They just solve our problem fast and professionally.
Hosting providers: Big or Small?
WebHostFace is not so well known as SiteGround, BlueHost, DreamHost or HostGator but being small is not a bad thing. Sometimes, the big web hosting companies forget that the ultimate customer is not Google, Facebook or New York Times, but the small to medium websites owners, guys like us who pays the same attention to price, futures, professional service and support.

Conclusion
We use WebHostFace managed WordPress hosting for ShortPixel blog, we trust them, and we are happy with their services. We totally recommend them to you. Just give them a try!